Commitment to Diversity
As the only accredited college of public health in Ohio, this is an exciting time for The Ohio State University College of Public Health. We know that diversity is key to the success of the college, the education of our students and alumni, and the communities we serve.
We are dedicated to celebrating and respecting the diverse ethnic, racial, geographic, religious and ideological backgrounds of our students, staff and faculty.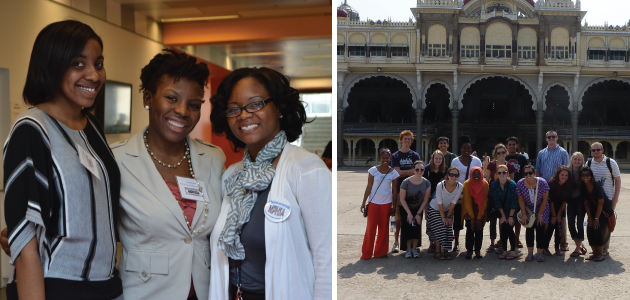 Our students have formed the Multicultural Public Health Student Association to create a safe environment in which everyone has the ability to experience, learn, and embrace a tangible meaning of diversity. It also serves as a catalyst for culturally competent leadership that enhances health outcomes for all.
Our Diversity Enhancement Committee promotes activities that help to enhance awareness of all forms of diversity within and around the college. Diversity Enhancement Committee members include College of Public Health faculty, staff and students. 
We also support policies and programs in the public and private sectors that facilitate equal access to health care services and equal opportunities to achieve maximum possible health outcomes.
Other Resources: 
To get the latest information on college events and activities, including those that are diversity-focused, please "like" us on Facebook and follow us on Twitter.
Ohio State policy
The policy of The Ohio State University, both traditionally and currently, is that discrimination against any individual for reasons of race, color, national origin, religion, sex, sexual orientation, gender identity and/or expression, age, disability or Vietnam-era veteran or other veteran status is specifically prohibited.
Accordingly, equal access to employment opportunities, admissions, educational programs, and all other university activities is extended to all persons. The university promotes equal opportunity through a positive and continuing affirmative action program that complements and supports the university's aspirations for diversity. The Office Human Resources is responsible for the coordination of matters relating to equal opportunity and affirmative action. The office can be reached at 1590 N. High St., Suite 300, Columbus, OH 43201-2190 | (614) 292-1050.
The university adheres to federal and state law prohibiting discrimination, including Title VII of the Civil Rights Act of 1964, as amended, Title IX, Section 504 of the Rehabilitation Act and O.R.C. Section 4112. United States Department of Defense regulations prohibit gay men, lesbians and bisexuals from serving in the armed forces, including Reserve Officers Training Corps. As a result of this prohibition, ROTC programs at Ohio State are inconsistent with University Policy Number 1.10 (Issued 10/1/73 and revised on 2/2/04.)
Office for Disability Services
Applicants with any disability who may require special assistance are urged to contact the Office for Disability Services, 150 Pomerene Hall, 1760 Neil Avenue, Columbus, Ohio 43210-1297, Phone (614) 292-3307, Fax (614) 292-4190. This office coordinates academic support services and accommodations for individuals who have special needs as a result of a permanent or temporary disability. Individuals eligible for services include, but are not limited to those with attention deficit disorder, mobility, hearing, visual, speech, psychiatric, or learning disabilities. If you want more information about these support services and accommodations, please contact the Office for Disability Services: http://www.ods.osu.edu.