CPH Faculty Participate in 'One Health' Summer Institute in East Africa
October 2, 2012 by Bri Loesch | CPH Communications
Categories: Faculty, Research, Global Health, Veterinary Public Health, Environment, Academic
The rural people of sub-Saharan Africa live on diverse agricultural activities, among which livestock plays an important role. According to the World Bank, agriculture can serve as an engine for economic growth in sub-Saharan Africa.                                 
Knowing the importance of livestock production to this region, Ohio State University partnered with colleagues in east Africa to offer the One Health Summer Institute this past summer.
The institute was led by Wondwossen Gebreyes, associate professor in Ohio State's College of Veterinary Medicine who has a joint appointment in the College of Public Health.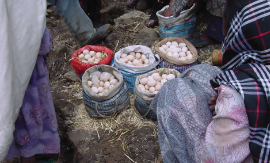 The institute's purpose is to prevent and control zoonotic and foodborne pathogens in the livestock-producing regions by using the "One Health" approach, an effort to address the links between animal health, human health, and our environment. The courses were offered to university faculty and graduate students from the region, and were held in Ethiopia, Kenya, and Tanzania.
Armando Hoet, director of Ohio State's Veterinary Public Health program, taught 33 participating faculty and graduate students at the University of Gondar, the second largest university in Ethiopia.
In his course, International Trade and Public Health, Hoet emphasizes the international trade of animals and animal products and its impact on public and animal health. The course focused on major international agencies, laws, and agreements regulating the imports/exports in the global market. The course also highlighted concepts, methods, and applications of risk analysis in veterinary public health.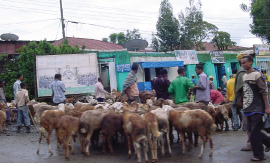 "Because there are so many public and animal health issues in this area of Africa, training faculty and graduate students there to apply the right interventions will help to improve their conditions," Hoet said.
Thomas Wittum, professor in both the College of Public Health and Veterinary Preventive Medicine, taught at the institute as well. His course, Epidemiology of Zoonoses, focused on describing the basic epidemiology of common and important zoonotic diseases with emphasis on the use of such knowledge in the establishment of preventive and control strategies specific for these zoonoses under tropic conditions.  
Currently, more than two-thirds of emerging infectious diseases in humans have originated from animals. Other factors such as the high rate of malnutrition, food insecurity, immunodeficiency because of HIV/AIDS, unhygienic conditions, and lack of clean water make zoonotic diseases common and result in severe infections in sub-Saharan Africa.
The One Health Summer Institute initiative aims to offer skill-building courses and short-term certification for graduate students and professionals in agriculture and public health. It provides local graduate students access to a Master of Public Health degree, and offers continuing education credit to professors from Ethiopia and nearby countries such as Uganda and Kenya.

"The most rewarding part of teaching at the institute was to see the participants get the information that will help them do a much better job of maintaining safe food and agriculture practices," said Hoet.    
Michael Bisesi, senior associate dean for academic affairs, is leading environmental health science efforts in these Eastern-Africa collaborations.
Bisesi was part of a delegation from Ohio State's health science colleges and the Office of International Affairs that traveled to Ethiopia and met with faculty and administrators at Addis Ababa University and the University of Gondar.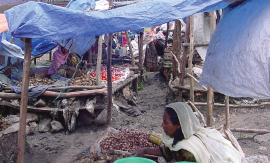 "In July I was part of the group and a presenter at the One Health Leadership workshop held in Arusha, Tanzania," said Bisesi.  "This is a group of scientists involved with the NIH Fogarty grant that involves education and research in East Africa with emphasis on food quality and infectious disease."
The NIH Fogarty grant is led by Gebreyes and Lonnie King, dean of Ohio State's College of Veterinary Medicine.
The group also met with scientists at research institutes, clinicians at the Black Lion Hospital (Ethiopia's largest general public hospital), and various government agencies and officials. Bisesi along with Alison Norris, assistant professor of epidemiology and medicine, represented the College of Public Health during this part of the trip.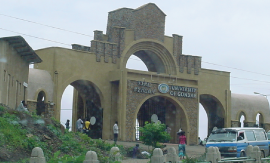 "The goal was to meet and discuss opportunities for mutually beneficial education and research collaboration," Bisesi said. "This effort aligns with the university goal to establish international gateways." 
*****
The Ohio State University's College of Public Health is an integral part of the most comprehensive health sciences campus in the nation. The college was created in February 2007 by the University Board of Trustees. First established in 1995 as part of the College of Medicine, we are the first and only accredited school of public health in the state of Ohio. Specializations within the college include biostatistics, environmental health sciences, epidemiology, health behavior and health promotion, health services management and policy, veterinary public health, and clinical and translational science. The college is currently ranked 20th in public health graduate schools by US News & World Report. Its Master of Health Administration program is ranked 14th.