About the Program
The Summer Program brings world renowned experts in public health methods to Columbus, OH each summer. The unique design of the program provides an opportunity for individuals to learn in an atmosphere of intense scholarship and collaboration. It is the intent of the Summer Program to provide you with a learning opportunity that will fit into your professional life without complicating work schedules and other obligations. There is a course designed to meet your needs, whether you are a student, researcher, public health practitioner, or an individual interested in expanding applicable knowledge and skills.
I really enjoyed the format of the course. Having a variety of lectures, small group discussions, and wrap up activities was very beneficial to gaining a good understanding of the topic. It was really great getting to hear multiple perspectives.- 2014 Participant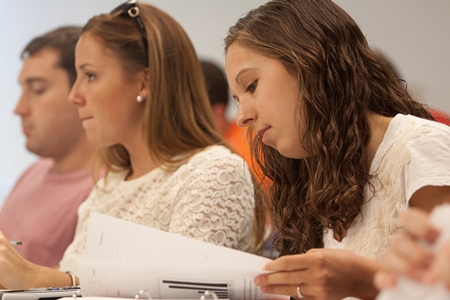 Welcome
Thank you for your interest in the 2016 Summer Program in Population Health. This year's set of 12 courses was chosen to align with both emerging health priorities and cutting-edge population health science. To ensure we continue to expand our learning opportunities, we are offering a number of new courses to compliment our most popular offerings. Through the support of the Ohio State University Medical Center's Government Resource Center, we are excited to feature a course in Social Epidemiology, offering a unique look at how society impacts the health and well-being of individuals. Also new for this year is a course in the Development of Data Collection Instruments in Public Health, informing practitioners of methods for extracting more focused and useful data when other instruments are not available.
The mix of courses offered is intended to appeal to a broad range of health professionals, from public health to health care and beyond. We encourage all people working to understand and improve the health of individuals, groups or whole communities to register and join us for the 2016 Summer Program.
Andrew Wapner, DO, MPH
Assistant Professor - Practice
Director, Center for Public Health Practice
For More Information, Contact:
Phone: 614-292-2291
Email: CPH-Practice@osu.edu