Why Public Health at OSU
The Ohio State University College of Public Health is Ohio's first and only college fully accredited by the Council on Education for Public Health (CEPH), the nationally recognized accrediting body for schools of public health. Additionally, the Master of Health Administration program is accredited by the Commission on Accreditation of Healthcare Management Education (CAHME), the primary accrediting agency for health management education. U.S. News & World Report ranks Ohio State's College of Public Health #12 among public schools of public health, and ranks the college's MHA program #14 nationally.

Ohio State University Campus
Pursuing your public health education here connects you to one of America's great institutions of higher learning. Founded in 1870, The Ohio State University has one of the nation's largest single college campus enrollments and the vast resources that go with it. Our health sciences campus is at the forefront of cutting edge public health research. Our connection with the Wexner Medical Center, listed as one of "America's Best Hospitals" on U.S. News & World Report, only strengthens the research opportunities our students have.
Because the college is on the same campus as all the major liberal arts and professional programs of The Ohio State University, you will enjoy the advantages of close affiliation with students and faculty in an unmatched breadth of academic offerings to enrich your educational experience. Although the university is large, the College of Public Health offers opportunities for fellow students to get to know each other and the faculty.
Columbus is Ohio's largest city and the 15th largest city in the United States. With a youthful median age of 32.6, the population of the area is 1.6 million. Ohio's capital, Columbus offers you great choices in the arts, cultural events, concerts, restaurants, sports, and nightlife, all near campus.
Connections
Faculty -- Students admitted to a CPH progam at Ohio State are assigned a faculty advisor with whom they work closely during their entire academic career. Students are also closely connected with faculty in their own area of study as well as faculty from all Public Health disciplines.
Staff -- In addition to faculty advisors, students are linked with the Office of Academic Programs and Student Services (OAPSS), a "one-stop shop" for students in the college. Staff in the office either can answer students' questions or point them in the right direction for quick and correct answers to their pressing questions.
Alumni -- The college has two active alumni societies that are very involved in future and current student activities such as Homecoming activities, an alumni mentor network, and prospective student visit days.
Students - The college has five, active student organizations planning social and academic events for students. The university has more than 1000 student organizations. There are opportunities for a variety of interests!
Community Partners – Our students and faculty have the opportunity to work with a wide variety of constituents within central Ohio and beyond. A few of our local partners include Ohio Department of Health, Local Matters, Columbus Public Health, Nationwide Children's Hospital, Health Fitness, Franklin Park Conservatory, Mid-Ohio Food Bank.
Experience
Our students' experience goes far beyond the classroom. Practicum, research, residency, and internship opportunities are part of all our curriculums. Many of our graduate public health students also pursue international practice placements while in the program.
Our public health alumni are found in organizations ranging from hospitals to private business to government agencies. Our health administration alumni have been recognized as having one of the most successful alumni organizations by the American College for Healthcare Executives as well as The Ohio State University Alumni Association.
Join the college today, and make your mark on the community and change the world.
---
Degree Programs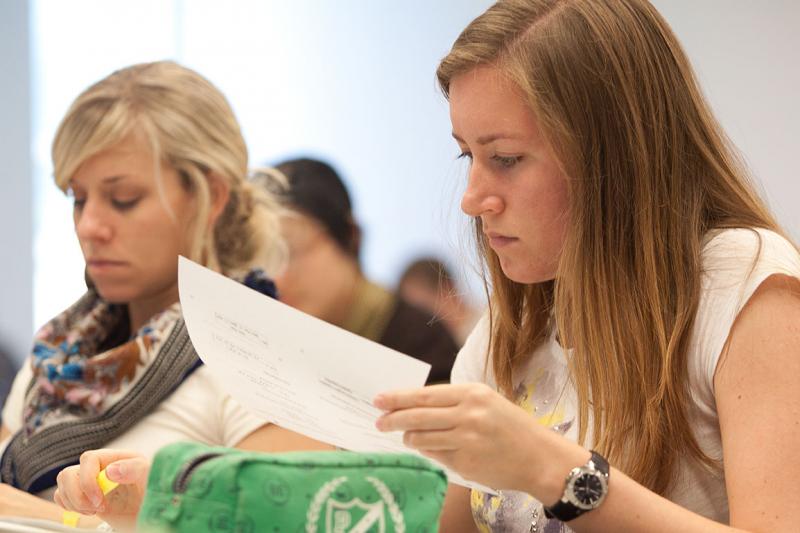 Graduate Degrees/Programs
Master of Public Health
-Biomedical Informatics
-Biostatistics
-Clinical Translational Science
-Environmental Health Sciences
-Epidemiology
-Health Behavior & Health Promotion
-Health Services Management & Policy
- Program for Experienced Professionals  (PEP)  part-time MPH program for working professionals
-Veterinary Public Health
Master of Health Administration (MHA)
Master of Science (MS)
-Biomedical Informatics
-Biostatistics
-Environmental Health Sciences
-Epidemiology
Doctor of Philosophy (Ph.D.)
-Biostatistics
-Environmental Health Sciences
-Epidemiology
-Health Behavior & Health Promotion
-Health Services Management & Policy
Combined BSPH/MPH Degree Program
Dual and Combined Degree Opportunities
Graduate Interdisciplinary Specialization in Global Health
Undergraduate Degrees/Programs
Bachelor of Science in Public Health
-Public Health Sociology
-Environmental Public Health
Undergraduate Minor in Global Public Health