This is a curated page for College of Public Health events, campaigns, and initiatives in a visual and collaborative way. The page combines our social media, photos, news, videos, and conversations to create narratives.
2014 #NPHWOSU Wrap-Up
April 14, 2014
---
An Interactive Timeline: Cunz Hall deemed LEED Certified Silver
February 3, 2014
Cunz Hall recently became the first renovated building on campus with wet lab space to become LEED (Leadership in Energy & Environmental Design) certified. The building's LEED silver certification was made official this past fall by the U.S. Green Building Council.
Originally built in 1969 as the Dieter Cunz Hall of Languages, Cunz underwent renovations and reopened as a state-of-the-art building in fall of 2011. This newly revamped building allowed the College of Public Health to be under one roof for the first time.
"Working on the Cunz Hall project was an eye-opening and invigorating experience," said Renee Watts, facilities manager. "From the first renovation project we did on the 4th floor in 2005, to the finished product in 2011, the transformation of Cunz Hall was an amazing feat. Having the entire college together in one space after many years was an ultimate goal, but being housed in a building that operates efficiently, provides a pleasant environment, and is a gem on campus is enormously satisfying."
Learn about the highlights of Cunz Hall and the features that led to its LEED certification through the timeline below:
If the timeline does not appear above, click here to view it in a new window.
---
On Storify: A Look Back at 2013
February 3, 2014
---
On Storify: Movember at Ohio State 2013
February 3, 2014
---
How to be a Buckeye According to a Brutus Alum
February 3, 2014
As a former Brutus Buckeye, Jamie Cleverley, MHA '04, knows a thing or two about being a Buckeye. He shares a few of his favorite tips in anticipation of Ohio State's Homecoming-Reunion Weekend. To register for the College of Public Health Alumni Tailgate, click here.

---
College Ranked #9 of 50 Most Social Media Friendly Schools of Public Health
February 3, 2014
Looking at 61 public health schools, MPHProgramsList.com ranked Ohio State's College of Public Health #9 for social media. With an overall score of 72.6/100, the college's Pinterest and Flickr accounts ranked 1 and 2 respectively. The infographic below displays some of the college's social media statistics: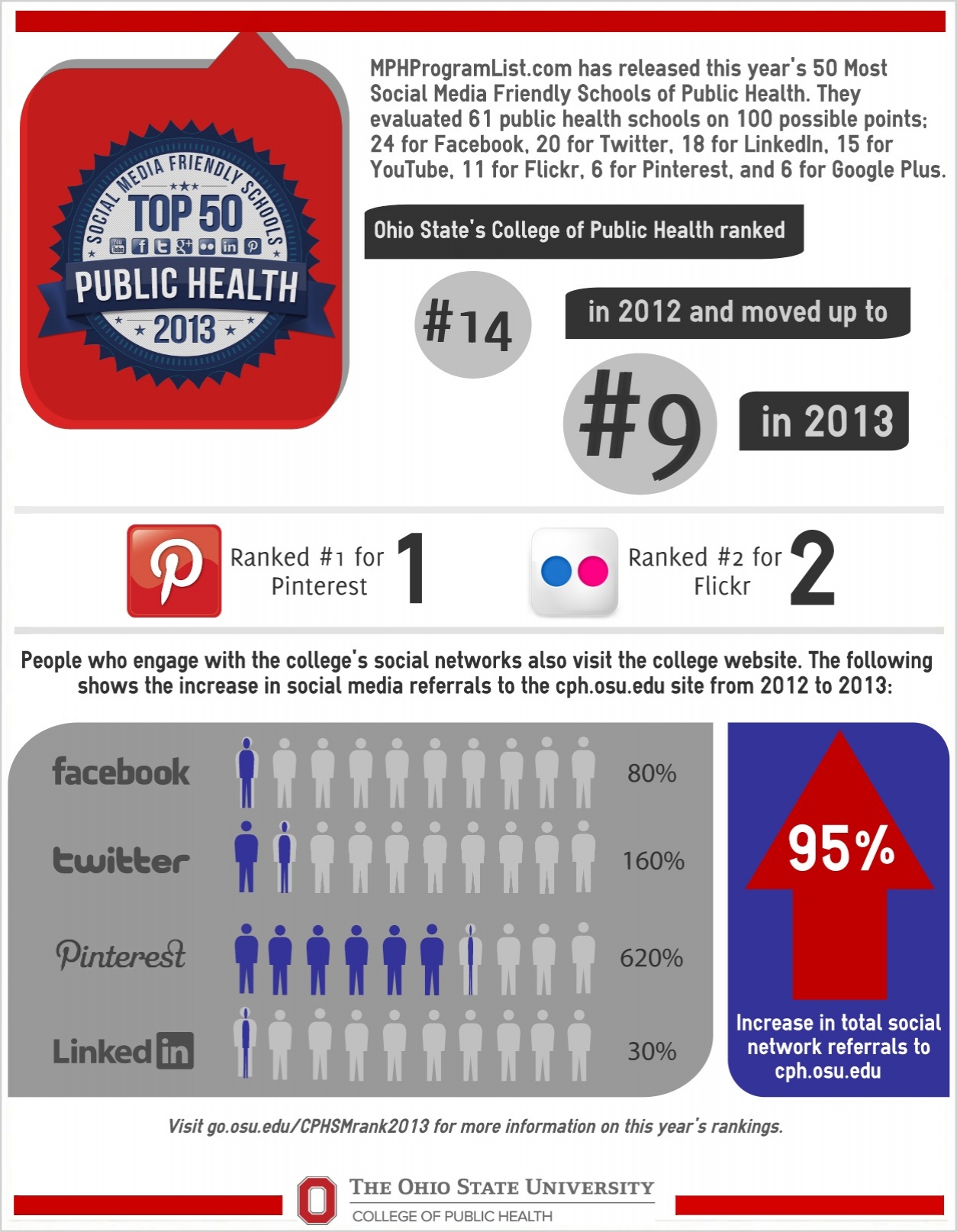 ---
National Public Health Week 2013 Recap
February 3, 2014
Look back at National Public Health Week activities, photos, and conversations at Ohio State.
---
Happy 200th Birthday to John Snow!
February 3, 2014
The College of Public Health is celebrating the father of modern epidemiology by looking at his unprecedented contributions to the field.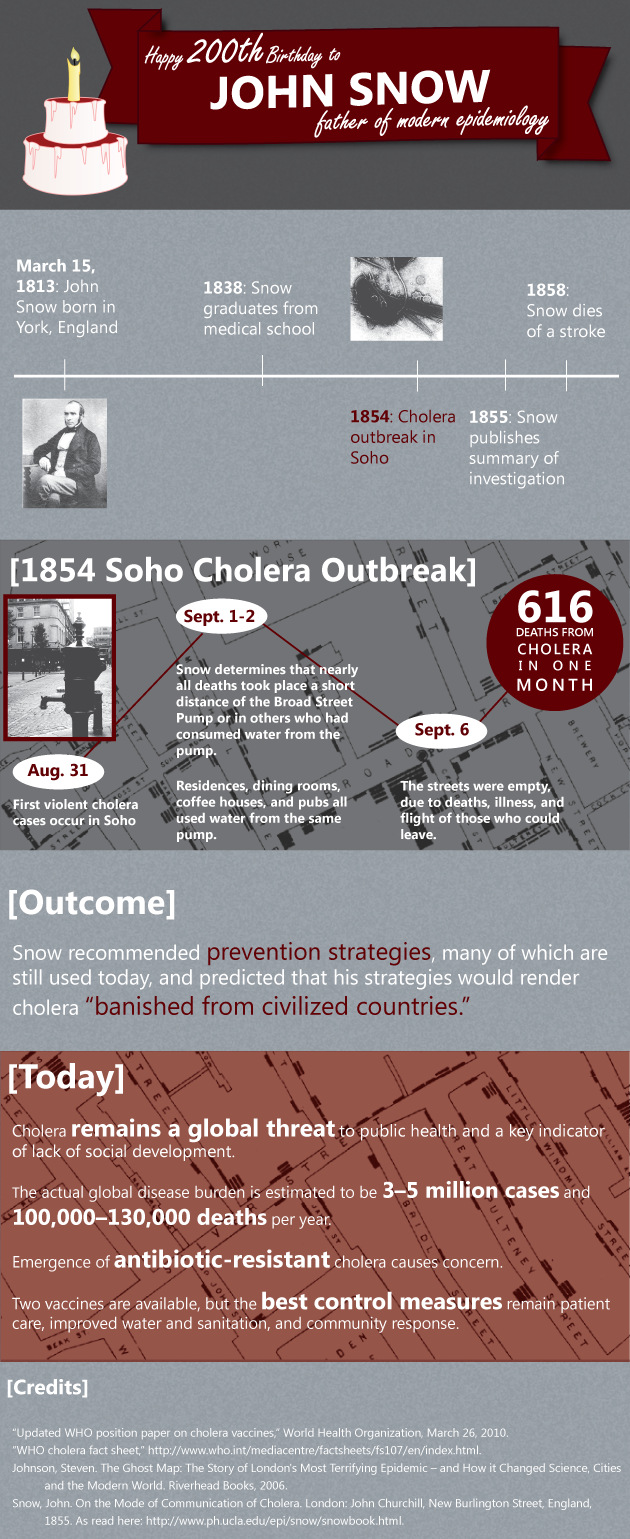 For more information follow the links below:
http://go.osu.edu/WHOcholerafactsheet
http://go.osu.edu/snowbook
---
6 Healthy Ways to Say 'I Love You'
February 3, 2014
Wondering what to get that healthy someone for Valentine's Day? One of these ideas is sure to be a hit: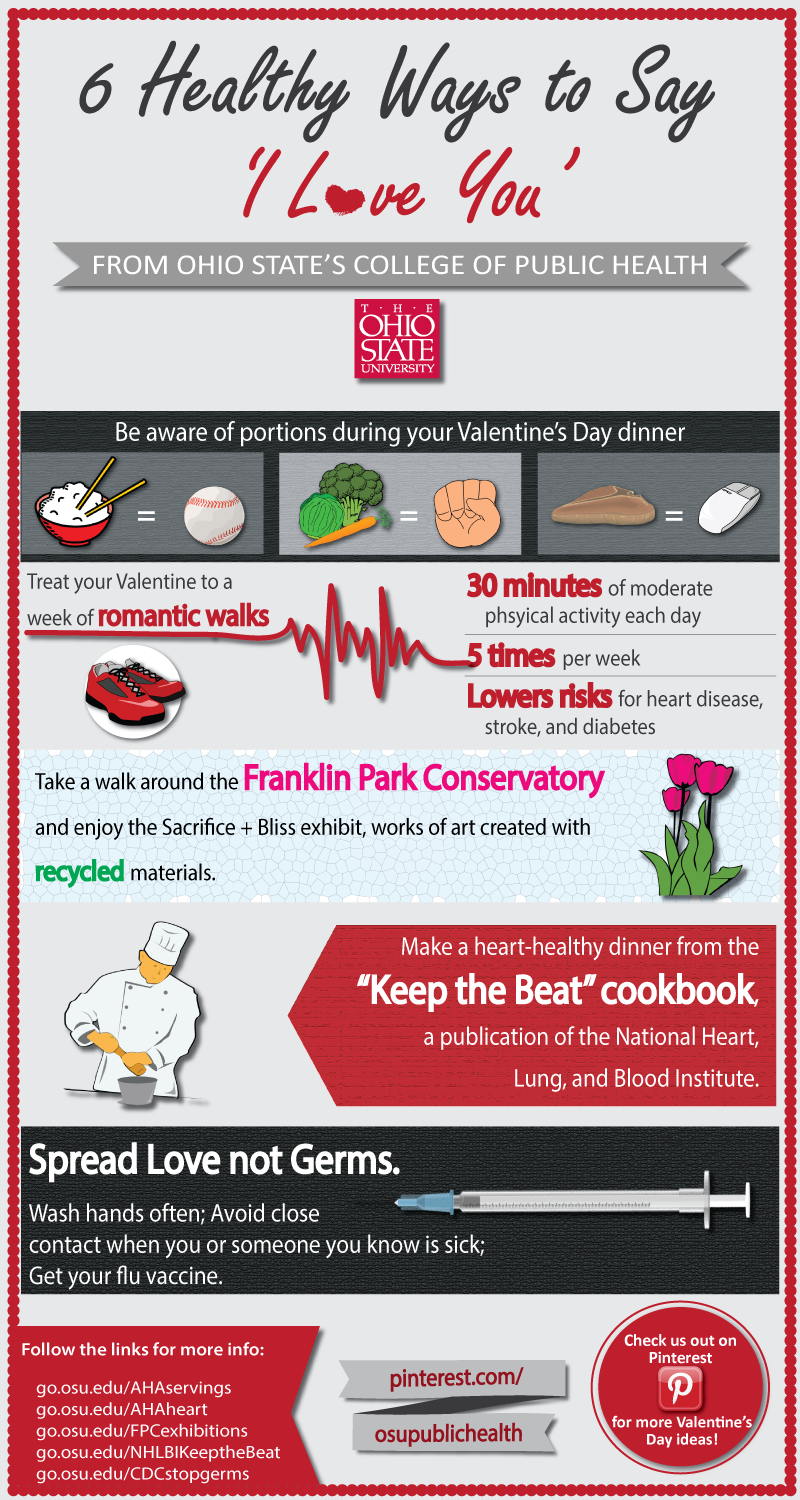 For more information follow the links below:
http://go.osu.edu/AHAservings
http://go.osu.edu/AHAheart
http://go.osu.edu/FPCexhibitions
http://go.osu.edu/NHLBIKeeptheBeat
http://go.osu.edu/CDCstopgerms
---
A Year in Review
February 3, 2014
Ohio State's College of Public Health had a great 2012! It launched the new Bachelor of Science in Public Health degree. Faculty explored research and education collaborations in East Africa, China and India. Students raised awareness for men's health with Movember. Faculty earned honors and recognition. There is even more good news to share on the timeline below:

For more information follow the links below:
http://go.osu.edu/teenobesity
http://go.osu.edu/wewerspresaward
http://cph.osu.edu/hopes/cer
http://go.osu.edu/summerprogram2012
http://go.osu.edu/LeeEPAgrant
http://go.osu.edu/farmersmarkets2012
http://go.osu.edu/raingardenfundraising
http://go.osu.edu/2012alumnitailgate
http://go.osu.edu/championsofpublichealth
http://go.osu.edu/NAHSEcasecomp2012
http://go.osu.edu/Movember2012
http://go.osu.edu/marshallscholar2012
http://go.osu.edu/kochfellow2012
http://go.osu.edu/AfricanPartners
---