For Employers
The College of Public Health Office of Career Services is pleased to assist employers with their recruiting needs. Our professional and knowledgeable staff will connect employers with current graduate and undergraduate students, as well as alumni, seeking practicum, internship, and career opportunities.
Employer Services
Free posting of jobs, internships, practicum, and residency opportunities on the CPH Careers System, part of the Buckeyes Careers Network powered by NACESymplicity
Career Fairs where you can interact and network with our talented students
Meeting space for informational presentations to our students
Arrangement of on-campus interviews
Development of new practicum, residency, or internship programs
Contact our staff with questions or concerns, or to arrange any of the above.
Annual CPH Career Fair
The CPH Career Fair is a great way to market your organization to our MPH, MHA, MS, and PhD students who are seeking a variety of opportunities including practicum, administrative residency, internship, volunteer and career positions.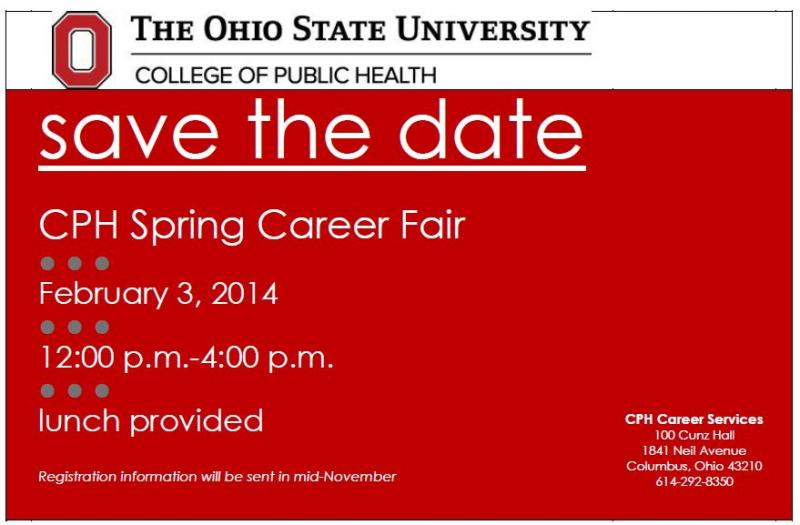 CPH Careers Employer Log-in:
Employers should activate their CPH Careers account account as a first step in utilizing our services.
Employers can begin the registration process by registering here http://go.osu.edu/CPHConnectEmployers.
    Click on " Register" to create a new account and follow prompts
After your registration has been approved, you will be able to post jobs and internships as well as request space for information sessions.  if you have additional questions about recruiting policies or procedures, or wish to discuss your recruiting strategy in greater detail , please contact a member of our staff.
Benefits for Employers
    Manage your account and edit your contact information
    Build a company profile
    Post a position and review applications
    Search for students in resume books
    Come recruit on The Ohio State University Campus
    Attend an event at The Ohio State University
By registering through the CPH Careers portal, you are establishing a recruiting relationship with the system.  This means your log in credentials will only work at this log in portal.  If you are interested in establishing  a recruiting relationship with another system in Buckeye Careers Network, contact a member of our staff.