As a researcher and assistant professor of pediatrics at Nationwide Children's Hospital, Jennifer Dyer, MD, MPH would text her teen diabetes patients as a reminder to check their daily insulin levels. To automate this successful program, Dyer developed apps to replace her weekly SMS texting protocol.
Originally from Dallas, Texas, Dyer received a Master of Public Health from The Ohio State University in 2008. Her academic advisor was Phylis Pirie, PhD.
Dyer's app programs are evidence-based using BJ Fogg's health behavior model. They incorporate reward motivation, gaming motivation, multi-media informative diabetes content, social media links, and push notification medication reminders. Dyer feels that good health is social and that social media tools such as apps provide opportunities for physicians to connect people with authentic improvements in their health and wellness.
Dyer created the startup company, EndoGoddess LLC, in 2011 and later entered into partnership with a larger local mobile software startup, Duet Health (eProximiti). Using seed funding they developed the EndoGoddess app in 2011 and then the EndoGoal app in 2012 for patients with diabetes who require insulin therapy and need motivation for glucose and insulin tracking. Both apps are currently available for iOS andAndroid phones.
The first of its kind, the EndoGoal app rewards users with weekly prepaid visa cards or gift certificates at participating retailers based on revenue collected by family and friend 'sponsors' when users track their glucose and insulin data via the mobile app. This social business model is not only sustainable at a low cost, but also provides support and encouragement from the users friends and family, Dyer said.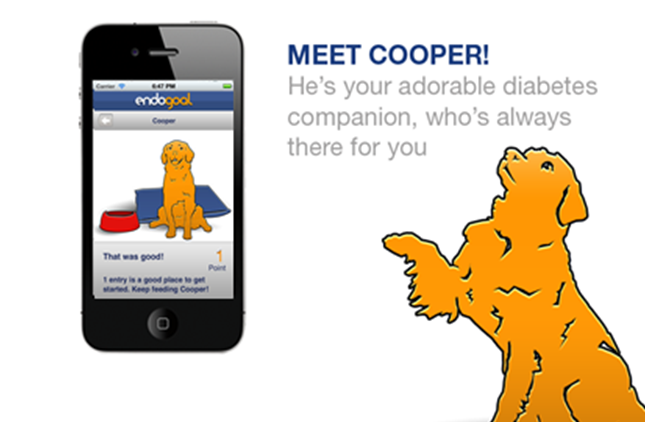 The app also has a daily glucose-checking motivating feature: a virtual golden retriever named Cooper. Cooper's happy barks or sad cries lead to user engagement to feed him by tracking his or her glucose or insulin levels. In other words, when users take care of themselves, they make Cooper happy and full; but when they don't take care of themselves, Cooper suffers too.
In addition to developing apps, Dyer is a pediatric endocrinology physician in private practice at COPEDS (Central Ohio Pediatric Endocrinology and Diabetes Services) in Columbus with William Zipf, MD, and Rolando Lozano, MD.
Dyer is a national and international thought leader in driving data-based health outcomes and behavior change utilizing mobile health and social media. She has presented in Paris, at The White House, TEDx, South By Southwest, Stanford, Cleveland Clinic, Mayo Clinic, mHealth Summit, and Harvard.
What is your most memorable moment at CPH?
Learning and laughing with Dr. Randi Love. I love how one day she just suddenly started talking about one of my favorite shows ('What Not to Wear') in the middle of a great lecture on health behavior theory and then said with a smile: 'I love shoes!'
Who is your idol/mentor? Dr. David Katz, director of the Yale University Prevention Research Center, Huffington Post writer, and frequent national TV news expert on nutrition and obesity. He is the founding director of the obesity prevention nonprofit 'Turn the Tide', entrepreneur and principal inventor of the Overall Nutritional Quality Index and acclaimed by peers as the "poet laureate of health promotion."
What are your hobbies? Are you involved in any volunteer work?I have always loved fashion and its transformative powers since I was a little girl. I recently achieved a life-long dream of attending New York Fashion Week. I am also a beginning foodie and involved in local foods advocacy through Slow Foods Organization, and I volunteer with Local Matters (http://www.local-matters.org/).
What does Ohio State mean to you?
Earning my MPH at Ohio State helped me to learn how I could utilize my talents and passions into a unique outlet that led to the creation of technology that is now helping people all over the world. I am blessed and grateful to Ohio State for the enlightenment that I received through earning my MPH degree.
Follow Dyer on Twitter, @EndoGoddess, and read her blog http://endogoddess.blogspot.com/