Brianna VanNoy, a public health undergraduate student spent May 13-29 in Japan as part of her Capstone Project. Here is an excerpt from a blog she kept during her travels.
I am filled with so many emotions after today. This morning, my classmates and I traveled from Sendai to Ishinomaki, the city devastated by the great earthquake and tsunami in 2011. We first visited the Red Cross Hospital in Ishinomaki, whose healthcare professionals cared for thousands of victims of the earthquake and tsunami. We heard from one of the head nurses about the hospital's disaster preparedness strategies and the strengths and weaknesses of those strategies in 2011. We then had a great discussion about our disaster preparedness in the U.S., and came up with many solutions to address risk management and preparedness in the event of a disaster. After the hospital tour, we actually had a chance to go to the sites that experienced the most damage and I must say that even after four years, the devastation and the loss is still very real. The streets are clear and the rebuilding process is underway, but there was an eerie feeling in the air - a feeling of loss, a feeling of hopelessness. It is one thing to read about a tragedy or hear about it through the media, but in the words of Dr. Ibaraki, it is something completely different to "see it, feel it, and smell it." Today I had the chance to see the devastation of an earthquake and tsunami. Today I felt the loss of lives and livelihoods and homes. All that was left to smell was the smell of ocean water; the ocean water that had elevated to over 25 meters in height and had washed away entire landscapes. Four years later I could still see, feel, and smell these things. And for me, that was incredibly powerful. Here are some pictures from the sights and sounds in Ishinomaki.

We spent most of our day in Ishinomaki before hopping on the bullet train and heading back to our beloved Tokyo! When we arrived in Tokyo, I was immediately surprised by the sheer amount of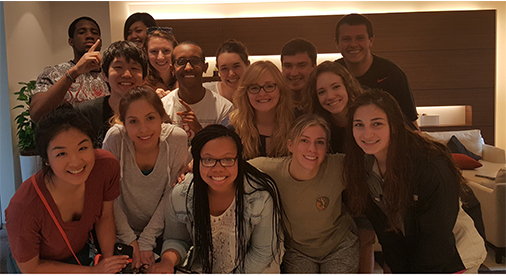 people who were crammed in the subways and walking through the station. I definitely got spoiled being in smaller cities this week with less foot traffic everywhere! But I was forced to shake that surprised feeling relatively quickly or I probably would've been run over! After checking into our hotel in Shiba, our group went out for a final dinner in Shibuya with Dr. Ibaraki, Dr. Acton, and our professors from the University of Tokyo. It was such an awesome night of food, fun, and friends! I have met some incredible people during these past couple weeks and I am so thankful that I was able to share my experience with all of them. Here is a picture from our last night together in Tokyo.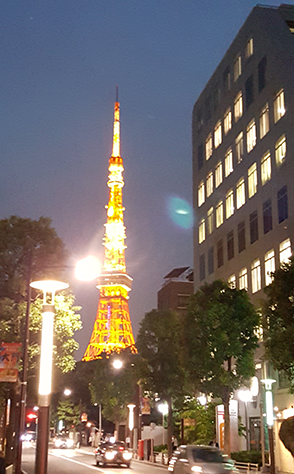 Also, our hotel was located right across the street from Tokyo Tower. Check out our view!
Until then… a final goodnight from Tokyo!