There's a fund for everyone at Ohio State, whether your Ohio State passion is for the arts, the football team, the marching band, the medical center, the student experience, or the many academic units around campus. With more than 8,000 active funds, you'd be hard pressed to find a cause that doesn't appeal to you. 
Your support could help first-year students receive a wellness assessment as they enter college (The Wellness Assessment Fund #312070). Or you can help provide wigs and head coverings to patients at the James Cancer Hospital (The Hair Theater Fund #311932). And you could provide funds to support everyone's favorite buckeye, our mascot, Brutus (The Brutus Fund #314005). 
And of course, the College of Public Health offers a host of giving opportunities here.
At Ohio State, there is a fund for everyone. During Campus Campaign, faculty and staff have a chance to show support for their passions.
Jennifer Wells, coordinator of academic advising and graduation at the College of Public Health, has been supporting one of the university's most unique funds since the 1990s by building a cake. This isn't just any cake; this is a replica of Ohio Stadium that is displayed and eaten before one home football game every year.
Beth Tucker, Ohio State University employee and Wells' cousin, has been involved since the beginning. 
"At a tailgate party in 1990, I baked a 9x11 sheet cake, iced it green and put band member figurines forming 'Script Ohio' on it. That brought up the talk of doing the whole stadium and a friend said it couldn't be done."  
With that challenge, the tradition began. During the 1991 season, a group came together to try their hand at building the whole stadium out of cake; 23 years later, the group is still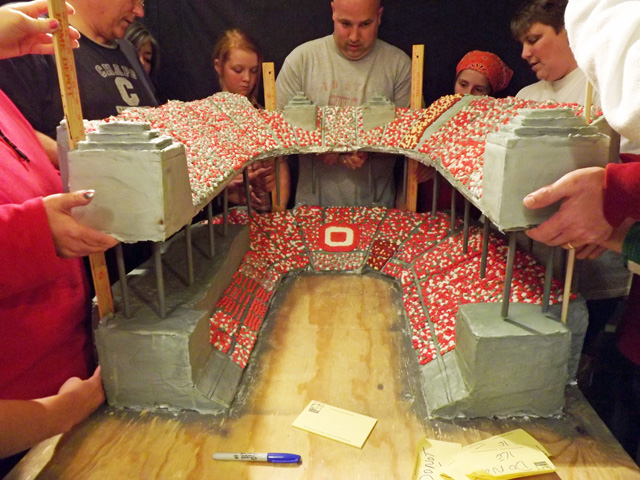 baking and assembling the massive cake.
By its third year, the cake had become such a big hit that the group starting accepting small donations to a scholarship fund in exchange for a piece of cake. The group also sells limited edition sketches of the cake that can be purchased with a $10 donation. Money towards the Stadium Cake Scholarship Fund (#646874) financially assists worthy Buckeye students. During the 2012-2013 school year six scholarships were awarded. 
 "Like Woody said, it's about paying it forward," Wells said. "I remember what it was like to be in college and my parents were unable to help me, so it was a financial struggle. My degrees have gotten me where I am today, and I want to help those students who are currently struggling, and I hope others feel the same way."
To browse a full listing of funds at the university or to make a donation to support Campus Campaign, please visit campuscampaign.osu.edu.