From poultry and lobster to cheese and wine, the Farm to Table study program participants observe the process of food production to consumption in Chile.
Kara Cover, a second-year Master of Public Health-Veterinary Public Health student, traveled to Chile as part of the program in late October. She and other participants from Minnesota, Costa Rica and Chile, spent five days traveling to multiple regions of the country to explore different aspects of the food production system.
"We visited processing plants, farms and grocery stores, and also met with governmental officials and veterinarians," Cover said. "These locations allowed us to see and learn about all the various measures that are taken throughout the food production chain to eliminate and prevent any pathogenic agents from entering the food supply."
The annual Farm to Table trip was created in 2009 by Scott Wells, head of the University of Minnesota's Veterinary Public Health program, and Armando Hoet, director of Ohio State's Veterinary Public Health program, as a way to teach others about integrated food systems in exporting countries.
"While the United States has one of the safest food systems in the world, we can still learn from other countries to make our production systems better," Cover said. "The U.S. is not
perfect, nor is any other country, but it is apparent that everyone can learn from one another in order to get the safest product possible. This will be increasingly important as the amount of food shipped from one part of the world to another continues to rise."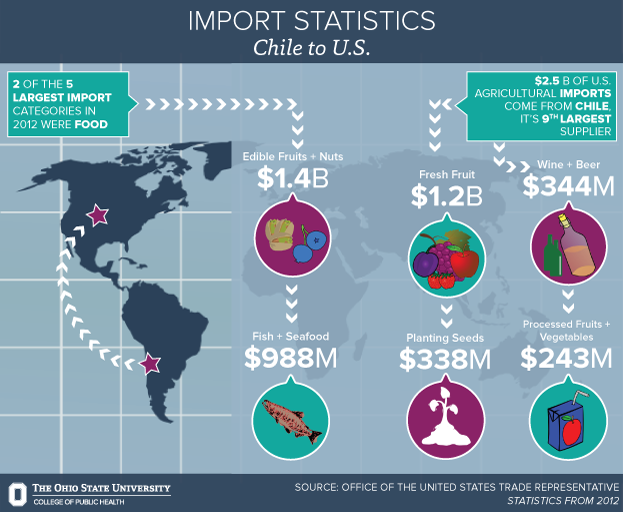 The program provides participants an opportunity to explore the global integration of food systems. It is available to veterinary and graduate students as well as food and health industry professionals and policymakers interested in food production systems, food safety and food security.
"My favorite part [of the program] was probably meeting many new people who all come from very diverse backgrounds," Cover said. "We all brought different things to the table, and then while discussing topics we would have a much more complete picture of the situation. Of course, it also led to networking that hopefully will be useful in the future."
When asked if the program changed her public health perspective, Cover explained that it made her realize how intertwined different areas of public health are.
"Besides keeping food safe, these companies have to also think about the impact they are having on the environment and about ways to keep their employees safe," Cover said. "Most of these companies have a large emphasis on these ideas including minimizing water consumption (and other resources), ergonomics and employee satisfaction, as well as keeping their food product safe."
Cover said the trip also showed her how globalized the world we live in is.  
"Companies in Chile were shipping their food products all over the world, including but not limited to Asia, Europe and of course the United States," Cover said. "While every country has their own regulations and standards they require to be met, their food systems are all still so connected.  It is really quite impressive." 
Participants were able to see the production-to-consumption process come full circle as they sat down to dine at local restaurants—many of which served local foods that had been processed before the group as they visited plants and farms.
Though Cover is still thinking through post-graduation plans, the trip did confirm that a career in food safety is still a possible option for her.