In early March, 20 faculty, staff and students from the College of Public Health attended the annual meeting of the Society for Research on Nicotine and Tobacco (SRNT) in Chicago. The SRNT is the leading association focused on this special area of research.
"SRNT is always an excellent mix of content, and this year was no exception.  It is a great meeting to learn about new and cutting edge activities in tobacco control research as well as connect and collaborate with others," said Liz Klein, associate professor, Health Behavior and Health Promotion.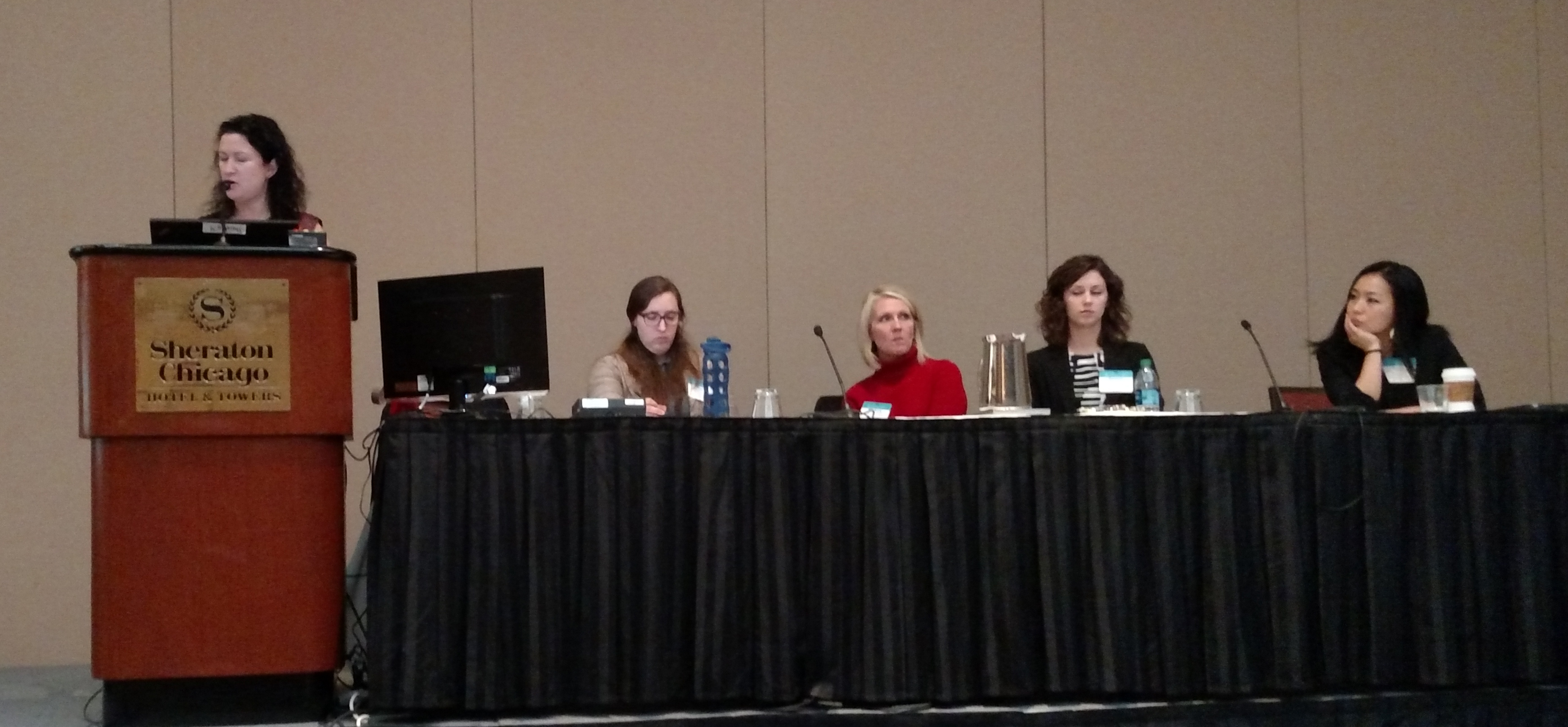 Klein coordinated a symposium session on legal issues related to e-cigarette marketing using data from two projects related to OSU-CERTS; where collaborators from Wake Forest University and RTI also shared results.  "This session was well attended and very well received by the audience," said Klein.  Natalie Hemmerich, policy postdoctoral OSU-CERTS fellow, served as the moderator.
Among the College of Public Health students in attendance was MPH candidate, Kate Friedman who presented a poster titled "Attitudes towards tobacco, alcohol and soft drink advertisement themes among adolescent boys." 
"I really enjoyed my time at SRNT. I was so fortunate to be able to attend and present at such an interesting conference as an undergraduate student. I didn't realize that there were so many areas of interest within nicotine and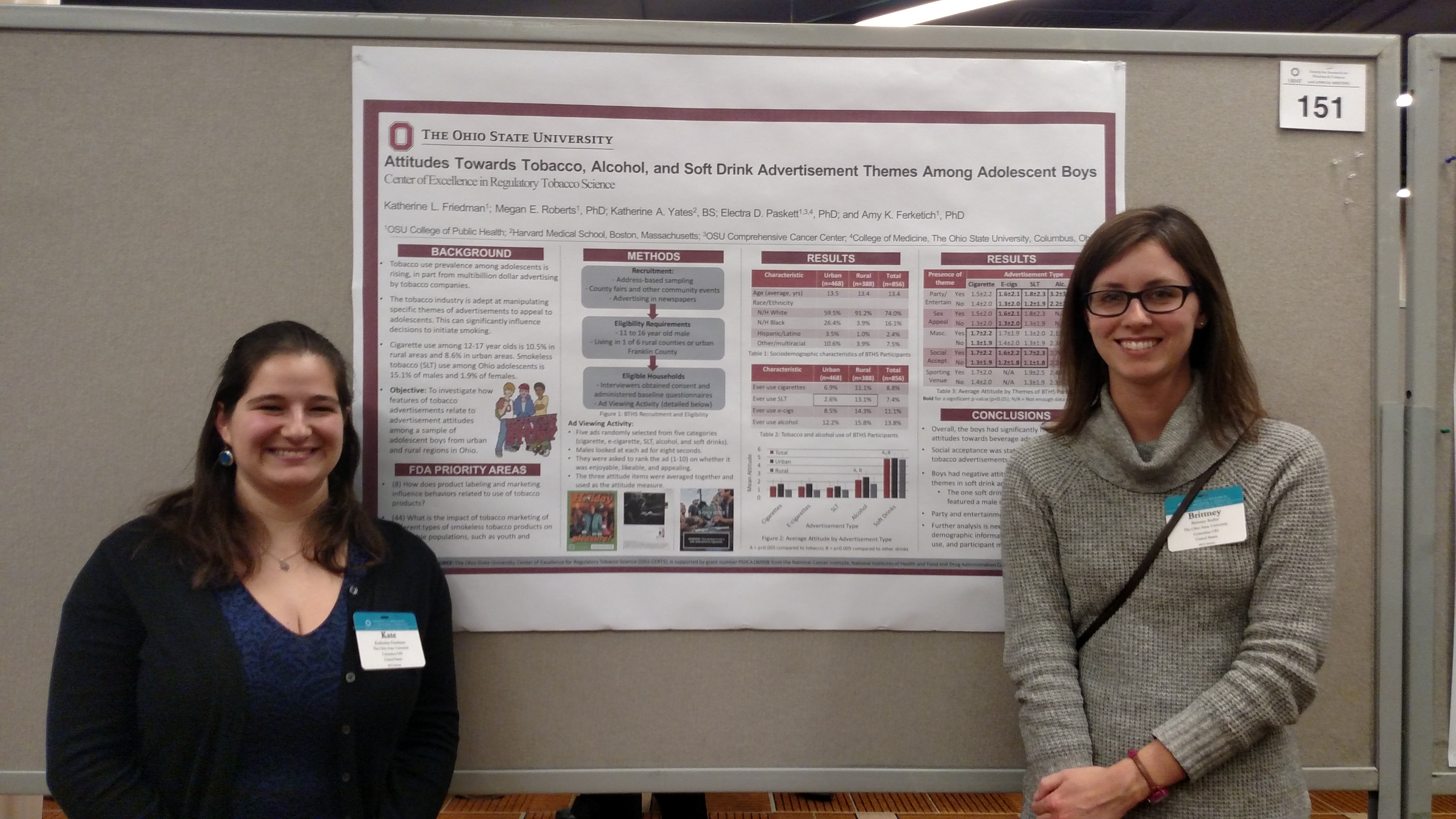 tobacco, and I learned so much attending the various sessions, looking at the different posters and meeting researchers from all around the world," said Friedman.
"It was exciting to present research that our study team had been working on for over two years at a national conference," said PhD candidate, Brittany Keller-Hamilton.
Presentations and posters presented at the conference are listed below.
Symposium 4: Evaluating Current E-Cigarette Marketing Through a Legal Lens
Chair: Elizabeth Klein
Content analysis of health claims from online e-cigarette sellers
Elizabeth Klein*, Micah Berman, Natalie Hemmerich, Sandi Htut, Michael Slater
How are electronic cigarettes advertised in popular magazines?
Brittney Keller*, Katherine Friedman, Katherine Yates, Amy Ferketich
Association between electronic cigarette use and 12-month tobacco abstinence among adult Appalachian smokers enrolled in a tobacco cessation trial
Elana Curry*, Julianna Nemeth, Amy Wermert, Nancy Hood, Sara Conroy, Abigail Shoben, Mary Wewers
Effectiveness of a lay-led tobacco cessation trial among adult Appalachian smokers: dose matters
Mary Wewers*, Abigail Shoben, Julianna Nemeth, Amy Ferketich, Amy Wermert, Sara Conroy, Elana Curry, Nancy Hood
The ecological context of smoking behavior for women with gender-based sexual and intimate partner violence exposure histories
Julianna Nemeth*, Bo Lu, Amy Bonomi, Tiffany Thomson, Juan Peng, Mary Ellen Wewers
Disparities in youth tobacco use and related beliefs by metropolitan status: findings from Florida and Ohio
Debra Bernet, Megan Roberts*, Amy Ferketich, Kelvin Choi
Symposium: Seeking a Pro-Equity Impact: The Intersection of Tobacco-Control Policy and Health Disparities Research
Chair: Megan Roberts
Successful enrollment of smokers in a cessation GRT using targeted county-level recruitment strategies
Sarah Reisinger*, Patrick Feeney, Juliana Nemeth, Abigail Shoben, Mary Ellen Wewers
Attitudes towards tobacco, alcoholic and non-alcoholic advertisement themes among adolescent boys
Katherine Friedman*, Megan Roberts, Katherine Yates, Electra Paskett, Amy Ferketich
Excise tax revenues and cigarette consumption under current and minimum price regimes
Nathan Doogan*, Mary Ellen Wewers, Micah Berman
A multilevel investigation of individual, interpersonal and neighborhood factors associated with smoking status in Ohio Appalachian women
Tiffany Thomson*, Julianna Nemeth, Amy Ferketich, Bo Lu, Juan Peng, Mary Ellen Wewers
*presenter