With the costs of higher education rising, scholarships for students are becoming more important than ever. The average cost for an undergraduate student to attend The Ohio State University is between $25,820 and $44,784, whereas graduate students can pay anywhere between $31,740 and $52,196 per year, depending on whether they are Ohio residents or not.
Scholarships provide access to education for deserving students with financial need, reward students for excellent academic performance, and help students take what is learned in the classroom and apply that knowledge to our community and world. Unfortunately, there is not sufficient funding for scholarships to meet the need.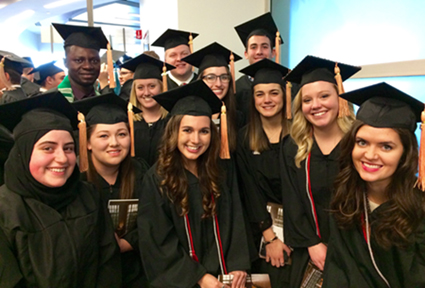 The College of Public Health's General Scholarship is designed to alleviate a portion of the financial burden that students face.
Because of limited funding availability, though, and depending on the year, approximately 40-80% of eligible student applicants for the CPH General Scholarship funds will see their needs go unmet.
An MPH student in the health behavior and health promotion, Leah Mitchell faced the high cost of tuition and debt when she decided to attend Ohio State for graduate school after receiving her undergraduate degree in Health Communication and Public Relations from Grand Valley State.
"Knowledge is important to me and so is the progression of my career," said Mitchell. She believes that the CPH General Scholarship was "a blessing" and gave her some peace of mind to be able to focus on her graduate degree.
Leslie Carson, a Master of Public Health and Master of Social Work dual degree candidate, also received a 2016-2017 CPH General Scholarship.
"I was very surprised in a good way to receive this scholarship. Because I'm staying here an extra year to receive a dual degree, it's especially helpful to make it all possible and help to cover books and living expenses," said Carson.
Karan Rai, Master of Health Administration student and CPH General Scholarship recipient, said "scholarships make it much easier to take advantage of all the opportunities my program has to offer without having to worry about finances."