A team of Ohio State public health students took home first place in the case study competition and third place in the trivia competition at the annual Scholar Bowl held at St. Louis University in St. Louis, Missouri, on April 1.
The team was comprised of co-captains Niru Murali and Jordan Royster, Maddie Drenkhan, Greg Zane, Ajay Saraf and Yousef Yacoub, and was advised by Robert Hood, MPH and PhD candidate in epidemiology.
According to Hood, OSU competed in the Scholar Bowl last year but this is the first year in which they have won and placed.
Teams from 12 other universities competed this year, and according to Murali, the competition was tough.
"OSU proved that we are a force to be reckoned with, similar to public health powerhouses like Johns Hopkins University and George Washington University," Murali said. "We have brilliant faculty who are teaching us meaningful information and we're utilizing what we've learned in an ever-competitive environment."
For the case study section, the team was assigned the topic of mental health on college campuses.
"The students were told they had $10,000 to address mental health on their own college campus and that they should create a program that incorporated all the five core disciplines of public health," Hood said. "The team came up with an excellent program that took home first place in the case study portion of the competition."
The team designed a two-fold plan that was within budget and took several different approaches in offering mental health resources on campus.
"We decided to create "MyZenZones" with yoga mats, chairs, resources, etc. that students could use their student IDs to swipe into at any given time," Murali said. "After three visits, they would have to meet with someone from Counseling and Consultation Services to make sure everything was going well. Everything was very integrated and sustainable and I think that's what helped us win."
The team suggested changes like integrating Counseling and Consultation Services into the Wilce Student Health Center, making it mandatory for faculty to include mental health services in their syllabi, and requiring students to take mental health assessment modules before registering for classes.
"This topic is something that has touched our lives personally, an area we believe the university can grow in, and an area often overlooked," Royster said. "We took a preventive approach to mental health because the university already has strong tertiary prevention programs in place."
The Ohio State University was the largest of all of the universities competing in the Scholar Bowl, so the team had the additional challenge of considering how to optimize their budget to make resources available when they had a larger student body to reach than their competitors.
"I think what set us apart from other teams was how comprehensive and detailed our plan was," Maddie Drenkhan said. "We spent a lot of time talking through what our intervention would look like if we actually were to set it up at OSU. That gave us an edge because we spent the time on seemingly small aspects of the plan, but overall, it gave us a much stronger presentation and campaign to present."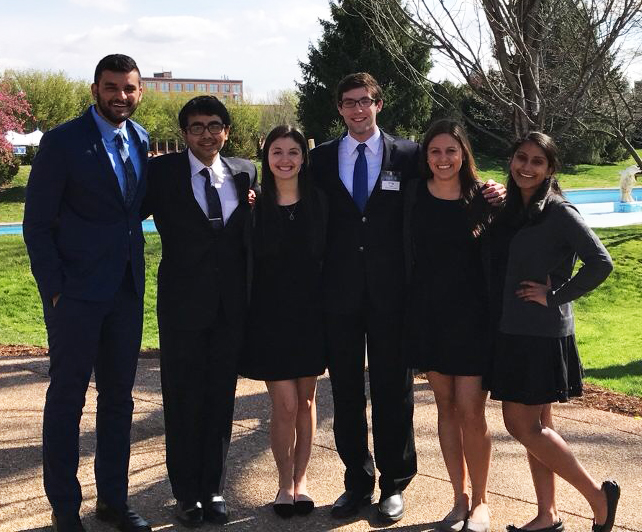 The team would love to see elements of their proposal actually implemented at Ohio State to further help students address and destigmatize the matter of mental health.
"I think our project did a great job researching how the campaign would fit into OSU," Zane said. "We are looking into getting in contact with the university to try and implement our program in real life. I think we were so successful this year because all of us have an extremely dedicated work ethic and a deeply rooted passion for public health."
The team also placed third in the trivia portion of the competition, which required plenty of preparation as well.
The trivia competition consisted of four rounds of 20 questions where highly-qualified mental health professionals asked questions and teams answered based on who buzzed in first.
"We worked with a set of over 400 practice trivia questions and met multiple times a week," Murali said. "We were nervous at Saint Louis but I can honestly say I couldn't have been happier with the team dynamic. Our team was unified, we could laugh, and we went out of our way to talk to the other teams, which I just think speaks volumes about the Ohio State spirit."