This is a curated page for College of Public Health events, campaigns, and initiatives in a visual and collaborative way. The page combines our social media, photos, news, videos, and conversations to create narratives.
Sarah Asad: Public health student, rowing champ
June 16, 2014
"Just like a rowing team, public health focuses on a group as a whole instead of on an individual basis."

Sarah Asad, a third year undergraduate student dual majoring in math (education track) and public health (public health sociology specialization), is part of the Ohio State women's rowing team, which recently won its second consecutive NCAA Rowing Championship.
Asad is a coxswain, the person in charge of the boat, its navigation, speed, steering and fluidity. The coxswain is also in charge of ensuring the safety of those in the boat, as well as motivating the crew and steering a straight course to minimize the distance to the finish line.
Asad talks about being part of the women's rowing team, the excitement of the championship win, and her life as a student at Ohio State. 
An Amazing Family
What do you enjoy most about being part of the women's rowing team?
The best thing about being a part of the women's rowing team at Ohio State is being a part of an amazing family. Everyone truly cares about one another and we support each other. The girls on my team are some of the most amazing women I have ever met. They're intelligent, witty and strong. We pull for each other. We fight for each other. A big reason why we won NCAAs is because of the strong bond we share.
Overwhelmed with Joy

How did you feel when you won the championship?
When I saw that we pulled through the line first in our final event, I just started crying because I knew that meant that we had won the title. I felt overwhelmed with joy and pride for my teammates. All the hard work we had put in for the past nine months came down to these moments of pure happiness. And hearing all the screaming from our supporters, seeing the faces of my teammates was the best part. You could see the love we had for each other.

Extraordinary Women
What has been the most rewarding part of the team's success?
Our senior class last year was a unique group of extraordinary women. They led the underclassmen by example and taught us something every day. The seniors showed us what it means to be a buckeye rower. Helping them to get another NCAA team championship was the most rewarding part of our success.
Motivation from the Bow 
As a coxswain, how do you motivate the crew? What is most challenging? 
I motivate my crew by reminding them of the reasons they put themselves through so much pain—for our coaches, our families, our supporters and for each other. I think the most challenging part of being a coxswain is knowing what to say at any moment. Rowers like to know exactly where they are on the course and in comparison to other boats, but they also need reasons to pull harder.

Public Health
What interested you in public health?
Public health interests me because it is everywhere around us. It's a growing field—expanding every day. Just like a rowing team, public health focuses on a group as a whole instead of on an individual basis. The field of public health is also interesting because it's applicable in every day and age. There is always going to be a reason for public health because it adapts to the needs of population.
Post-Graduation
What would you like to pursue post-graduation?
Post- graduation I plan on getting my master's in public health or in education. I would like to be an algebra teacher and teach a high school rowing team.
More about Sarah
I was a part of Boo Radley Society (random acts of kindness club) for two years. I am a member of the junior honorary Bucket and Dipper and am a service chair for the honorary. I also love to sing!
---
A look at the next class of public health advocates
April 29, 2014
From Akron to Atlanta, Columbus to New Orleans, the College of Public Health's Class of 2014 will be improving public health near and far.
[Click the photos to learn about these grads]
---
2014 #NPHWOSU Wrap-Up
April 14, 2014
---
An Interactive Timeline: Cunz Hall deemed LEED Certified Silver
February 3, 2014
Cunz Hall recently became the first renovated building on campus with wet lab space to become LEED (Leadership in Energy & Environmental Design) certified. The building's LEED silver certification was made official this past fall by the U.S. Green Building Council.
Originally built in 1969 as the Dieter Cunz Hall of Languages, Cunz underwent renovations and reopened as a state-of-the-art building in fall of 2011. This newly revamped building allowed the College of Public Health to be under one roof for the first time.
"Working on the Cunz Hall project was an eye-opening and invigorating experience," said Renee Watts, facilities manager. "From the first renovation project we did on the 4th floor in 2005, to the finished product in 2011, the transformation of Cunz Hall was an amazing feat. Having the entire college together in one space after many years was an ultimate goal, but being housed in a building that operates efficiently, provides a pleasant environment, and is a gem on campus is enormously satisfying."
Learn about the highlights of Cunz Hall and the features that led to its LEED certification through the timeline below:
If the timeline does not appear above, click here to view it in a new window.
---
On Storify: A Look Back at 2013
February 3, 2014
---
On Storify: Movember at Ohio State 2013
February 3, 2014
---
How to be a Buckeye According to a Brutus Alum
February 3, 2014
As a former Brutus Buckeye, Jamie Cleverley, MHA '04, knows a thing or two about being a Buckeye. He shares a few of his favorite tips in anticipation of Ohio State's Homecoming-Reunion Weekend. To register for the College of Public Health Alumni Tailgate, click here.

---
College Ranked #9 of 50 Most Social Media Friendly Schools of Public Health
February 3, 2014
Looking at 61 public health schools, MPHProgramsList.com ranked Ohio State's College of Public Health #9 for social media. With an overall score of 72.6/100, the college's Pinterest and Flickr accounts ranked 1 and 2 respectively. The infographic below displays some of the college's social media statistics: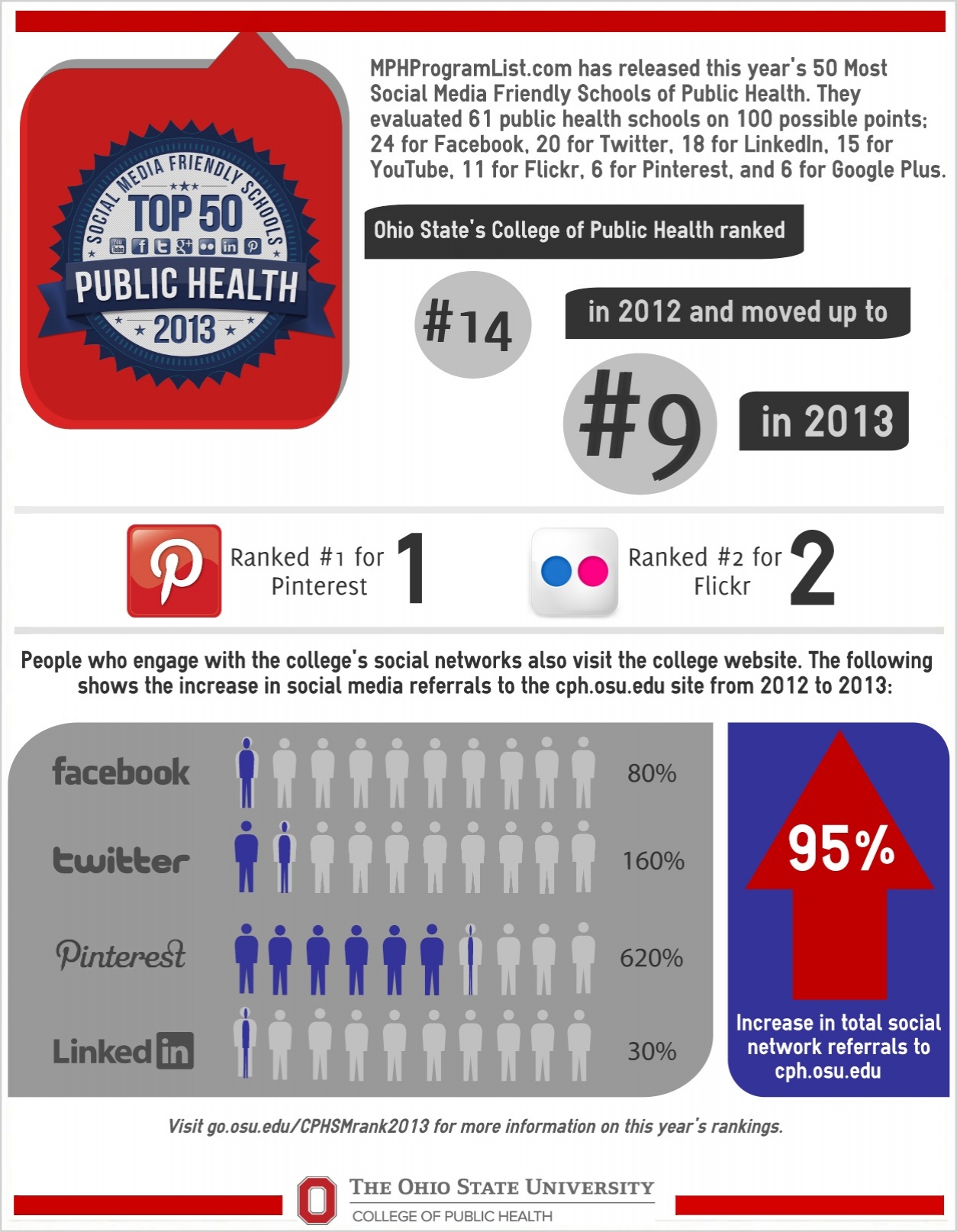 ---
National Public Health Week 2013 Recap
February 3, 2014
Look back at National Public Health Week activities, photos, and conversations at Ohio State.
---
Happy 200th Birthday to John Snow!
February 3, 2014
The College of Public Health is celebrating the father of modern epidemiology by looking at his unprecedented contributions to the field.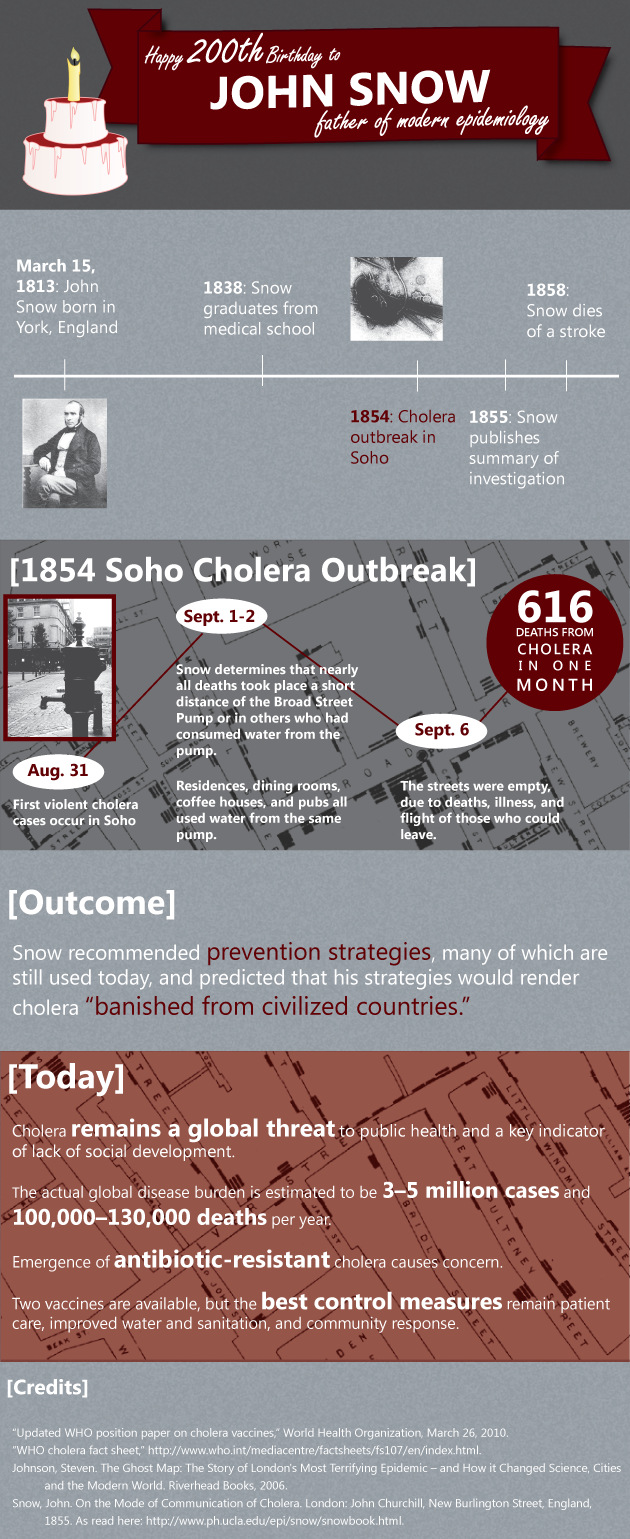 For more information follow the links below:
http://go.osu.edu/WHOcholerafactsheet
http://go.osu.edu/snowbook
---
Pages
*****
About The Ohio State University College of Public Health
The Ohio State University College of Public Health is a leader in educating students, creating new knowledge through research, and improving the livelihoods and well-being of people in Ohio and beyond.  The College's divisions include biostatistics, environmental health sciences, epidemiology, health behavior and health promotion, and health services management and policy.   It is ranked 19th among all colleges of public health in the U.S. by U.S. News & World Report, and also includes the top 10-ranked MHA degree program.  The College provides leadership and expertise for Ohio and the world through its Center for Health Outcomes, Policy and Evaluation Studies (HOPES), Center for Public Health Practice, and the NCI-funded Center of Excellence in Regulatory Tobacco Science (CERTS).