Professor
Health Behavior and Health Promotion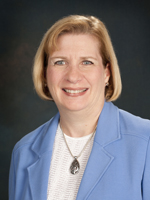 Carla Miller is professor of Human Nutrition in the Department of Human Sciences. Her research is informed by her years working as a clinical dietitian with patients with cardiovascular disease and type 2 diabetes.
She completed her doctoral training at Pennsylvania State University and initiated a research program in intervention science to understand how and why people make nutrition-related behavior changes. She served on the faculty at The University of North Carolina Greensboro and Penn State University. During her tenure at Penn State University, she served as the associate director of the Penn State Diabetes Center. Miller joined the faculty at OSU in 2007.
She serves as the associate director for the Interdisciplinary PhD Program in Nutrition at OSU and teaches courses in nutrition education and behavior change and research design. Miller is a fellow in the Academy of Nutrition and Dietetics and a member of the OSU Food Innovation Center, the Center for Integrative Health and Wellness and the Center for Clinical and Translational Sciences.
Ph.D., Pennsylvania State University, 1997