CQI for Public Health: The Fundamentals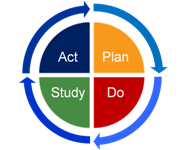 This on-line self-study course introduces the principles of quality improvement and methods for problem-solving, provides details on the application of the Continuous Quality Improvement process, and identifies how to use a team to improve a process in an organization. It consists of three modules that provide the basics of quality improvement in public health. Other Modules provide training in the quality improvement tools.
Upon completion of this course, participants will be able to:
Module 1: Introduction and Principles
Define quality improvement
Distinguish a quality culture
Identify key CQI concepts and principles
Recognize that change is essential to improvement
Module 2: Problem-Solving PDSA
Identify the problem-solving strategies
Explain the CQI process
Identify the current and desired states
Recognize the basic tools of quality improvement and how they are applied
Module 3:CQI Project Selection and Teams
Explain the steps for selecting a QI project
Define CQI team composition
Recognize the team development process
Define a CQI mission statement
Target Audience
The target audience for this course is anyone interested in quality improvement in public health.
Date, Time, and Location
This three module course is designed as a self-study, self-paced course.
Course fee
There is no cost to take this course.
Registration
To register for this course, go to https://www.cphplearn.org, the Center for Public Health Practice (CPHP) Learning Content Management System (LCMS). Enter your username and password, or if you are a first-time user, select Create Account and enter your profile information. TRAIN users may want to use the same username and password for both TRAIN and the LCMS. Click on Course Catalog, click on View beside CQI: The Fundamentals. Scroll to the bottom of the page and click on LCMS Registration. Once the registration process is complete, you will receive a confirmation email containing additional instructions.To have your registration also appear in your TRAIN transcript, you will need to stay logged into the CPHP LCMS, click on My Training, click on view beside CQI:The Fundamentals scroll to the bottom of the page, and click on TRAIN Registration.

For more details view the brochure.
Contact
Joanne Pearsol at 614-292-1085 or jpearsol@cph.osu.edu.