CQI for Public Health: The Fundamentals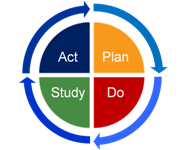 This on-line self-study course introduces the principles of quality improvement and methods for problem-solving, provides details on the application of the Continuous Quality Improvement process, and identifies how to use a team to improve a process in an organization. It consists of three modules that provide the basics of quality improvement in public health. Other Modules provide training in the quality improvement tools.
Upon completion of this course, participants will be able to:
Module 1: Introduction and Principles
Define quality improvement
Distinguish a quality culture
Identify key CQI concepts and principles
Recognize that change is essential to improvement
Module 2: Problem-Solving PDSA
Identify the problem-solving strategies
Explain the CQI process
Identify the current and desired states
Recognize the basic tools of quality improvement and how they are applied
Module 3:CQI Project Selection and Teams
Explain the steps for selecting a QI project
Define CQI team composition
Recognize the team development process
Define a CQI mission statement
Target Audience
The target audience for this course is anyone interested in quality improvement in public health.
Date, Time, and Location
This three module course is designed as a self-study, self-paced course.
Course fee
There is no cost to take this course.
Registration
The Center has a new face to its online learning management system (LMS). The new LMS, Canvas, is not only easier on the eyes, but in navigation as well. Canvas is a user-friendly, more modern-looking LMS that affords users a more streamlined and intuitive experience.You may access our courses at https://osupublichealth.catalog.instructure.com.
The following information is important to note about the new LMS:
You will need to create a user profile within the new system, even if you had an account with us previously. You will be prompted to set up this profile when you attempt to register for your first course. 
An overview course of the new LMS is available here Canvas Orientation: A Guide for First Time Users
Canvas is not compatible

 with Internet Explorer as a web browser. It is suggested to use either Google Chrome or Firefox.

Click here

 to download instructions for registering and completing courses for the first time.
To register for this course, go to https://osupublichealth.catalog.instructure.com/courses/phqi-0001. 

Contact
Please notify us immediately if you experience technical problems when accessing our catalog or any of our courses – we want to know so that we can make it better! Contact Colleen at fitzgibbons.11@osu.edu.