Disaster Surge for Public Health Nurses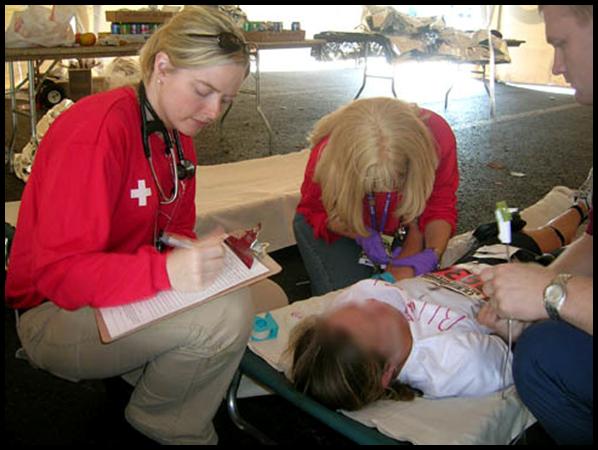 This Public Health Nursing Disaster Surge Course is based upon the 25 Public Health Nursing (PHN) Competencies for disaster surge, and is intended to provide participants with a comprehensive view of PHN surge from preparedness to response to recovery.  
The course consists of four modules.  Each module is a stand-alone learning opportunity and can be completed as a separate unit.  However, completion of all four is suggested for an inclusive understanding of the PHN role in a disaster. 
The four course modules include:
Module 1: Introduction to Disaster Surge
Module 2: Preparedness for Disaster Surge
Module 3: Response to Disaster Surge
Module 4: Recovery from Disaster Surge
Learning Objectives
Upon completion of all four course modules, participants will be able to:
Describe the aspects of public health nursing disaster preparedness and preventions
Distinguish the role of the public nurse in disaster surge from other practice partners
Discuss appropriate public health nursing interventions during the response phases of disaster surge, and
Identify the role of the public health nurse in the sustainment of recovery efforts after a disaster incident

Audience
The target audience for the course includes public health nurses.
Delivery
Each module is delivered in an online, self study format via a study guide.  The modules have been recently updated and are in a new and improved format on the Center for Public Health Practice's Learning Content Management System (LCMS).
Cost
There is currently no cost associated with this course.
Continuing Education
All course modules have been approved by the Ohio Nurses Association (OBN-001-91) an accredited approver by the American Nurses Credentialing Center's Commission on Accreditation.
Module 1: 1.5 hours valid through 9/24/2015
Module 2: 1.5 hours valid through 9/24/2015
Module 3: 3.0 hours valid through 9/24/2015
Module 4: 2.0 hours valid through 9/16/2015
Contact cphp-registration
cph [dot] osu [dot] edu for more information about continuing education contact hours.

Completion Requirements
Receiving a passing score of 70% on the module online quiz and submission of an online module evaluation are required to complete each module and to receive continuing education credit and/or a certificate of completion.
Registration
To register for this course, go to https://www.cphplearn.org, the Center for Public Health Practice (CPHP) Learning Content Management System (LCMS). Enter your username and password. (If you are a first-time user, select Create Account and enter your profile information.)
Click on Course Catalog, click on View beside the Module Title for which you wish to register. Scroll to the bottom of the page and click on LCMS Registration. You will receive a confirmation e-mail from cphp-registration
cph [dot] osu [dot] edu.
Note: You will need to register for each module individually.
To have your registration also appear in your TRAIN transcript, you will need to stay logged into the LCMS, click on My Training, click on view beside the Module Title, scroll to the bottom of the page, and click on TRAIN Registration.
Provider
This course is provided by the Center for Public Health Practice located in the College of Public Health at The Ohio State University.
The course is made possible, in part, by the Ohio Public Health Training Center, grant number UB6HP20203, from the Health Resources and Services Administration, DHHS, Public Health Training Center Program. Contents are solely the responsibility of the authors and do not necessarily represent the official view of HRSA.
There is no commercial support for this course nor do the subject matter expert and planning committee members have any conflict of interest. There will be no mention of off-lableed product uses.
Inquiries 
Please direct program inquiries to: %20CPH-Practice
osu [dot] edu ()
Please direct registration and continuing education inquiries to: %20cphp-registration
cph [dot] osu [dot] edu ()
View the complete course announcement.