Understanding barriers to reproductive health care among Somali women in Columbus, Ohio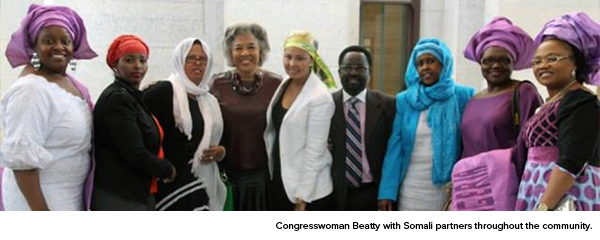 Join The Ohio State University, Columbus Public Health and the Center for Somali Women's Advancement to identify barriers to care faced by Somali women in Columbus.
Ku biir Jaamacadda Gobolka Ohio (Ohio State University), Caafimaadka Dadweynaha Columbus (Columbus Public Health) iyo Xarunta Horumarinta Dumarka Soomaalida (Center for Somali Women's Advancement) si loo aqoonsado waxyaabaha ku dadban daryeelka ay la kulmaan dumarka Somalida ee jooga Columbus. Nala soo xariir maanta si aad uga qeybgashid daraasadena cilmi baarista.
Somali immigrants in the US have low levels of preventative health care utilization. Particularly for women, lack of utilization of reproductive health services has negative impacts for women directly and for their children, families and the community as a whole.  Despite this, relatively little research has been carried out among African immigrants either on a national level or in Columbus, so the specific barriers to utilization of reproductive healthcare faced by Somali women in Franklin County have not been well characterized.  The proposed project will be carried out by a team comprised of academics, policy-makers and individuals from community organizations serving Somali immigrants in Columbus. Through qualitative research with Somali women, we will comprehensively assess barriers to reproductive healthcare utilization including challenges related to culture, language, education, logistics, medical literacy, discrimination and other barriers. These findings will be used to develop potential programmatic interventions to increase Somali women's access to reproductive healthcare. We will then bring these proposed interventions back to the Somali population and other community partners for their input on feasibility and acceptability. The development of evidence-based, culturally-acceptable programs to increase Somali women's use of reproductive healthcare will lead to reduced risk of adverse reproductive health outcomes. 
Click here for a copy of the complete Engagement Impact Grant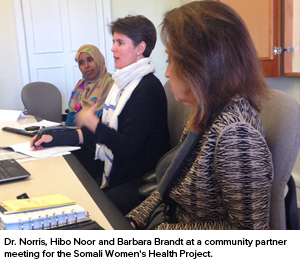 We want your input
To learn more about these health issues, we are asking Somali women living in Columbus if they want to take part in a study. We want to hear your thoughts on health and healthcare in Columbus, specifically related to your reproductive health, including how you can protect the health of you and your child during pregnancy and birth. 
Waxaan rabnaa fikradaada
Si aad in badan uga baratid arrimahaan caafimaadka, waxaan dumarka Somalida ee ku nool Columbus weydiinay haddii ay rabaan in ay ka qeyb qaataan daraasadda. Waxaan rabnaa in aan maqalno fikradahaada ku saabsan caafimaadka iyo daryeelka caafimaadka Columbus, khaas ahaan la xariira caafimaadka dhalmada, kana mid ah sida aad u badbaadin kartid caafimaadkaada iyo caafimaadka cunugaada waqtiga uurka iyo dhalmada. 
How you can be involved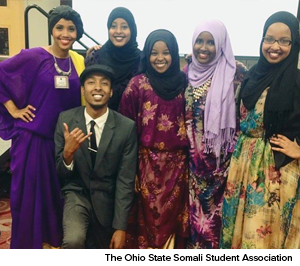 If you choose to join the study, you will be participating in a focus group discussion – where a group of women will all talk together. The discussion will last approximately one hour, and will include 7-9 other Somali women living in Columbus, Ohio. The time and location of your discussion will be determined based on when and where is most convenient for you. Refreshments will be provided, and you will be monetarily compensated for your time. 

Sida aad uga qeybgeli kartid
Haddii aad dooratid in aad ku biirtid daraasadda, waxaad ka qeybgeli doontaa wadahadalka kooxda ahamiyad siisa daraasadda - halkaas ay koox dumar ah dhamaan ku wada hadli doonaan. Wada hadalka wuxuu gaari doonaa qiyaas ahaan muddo hal saac, waxaana ku jira 7-9 dumar Somali ah oo ku nool Columbus, Ohio. Go'aanka waqtiga iyo goobta wada hadalka waxaa lagu saleyn doonaa goorta iyo meesha kuu roon adiga. Waxaa la keeni doonaa cabbitaan, iyo lacag ayaa lagu siin doonaa waqtiga aad gelisay.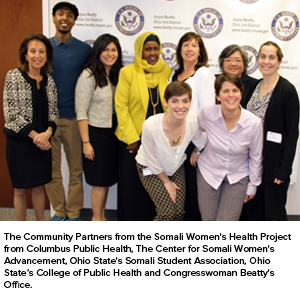 Why participate
You can become an important player in the development of more effective and appropriate care for both yourself and for future generations of Somali women!
We will not collect any of your personal information, and the discussions will be confidential.
Maxay tahay sababta looga qeybgalo?
Waxaad noqon kartaa qof kaalin muhiim ah ka qaata horumarinta daryeelka kugu habboon adiga iyo jiilalka mustaqbalka dumarka Somalida! Waxaan aruurin doonaa macluumaadkaada shakhsiga, wada hadalada waxay ahaan doonaan qarsoodi
---
Contact Us
Call, text or email us at the contact provided below and we will contact you shortly to make sure you are an eligible candidate for our study and set up a time and place that is most convenient for you to participate.  You must be 18 years or older to participate.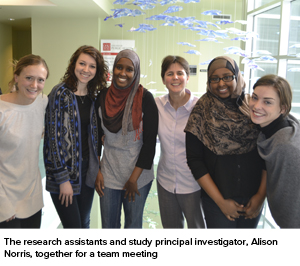 Na soo wac, noo soo dir fariin ama email noogu soo dir xariirka hoos lagu qoray, kaddibna waan kula soo xariiri doonaa in yar kaddib si loo hubsado in aad tahay musharax xaq u leh daraasadena, adiga oo qabsada waqti iyo goob ku roon si aad uga soo qeybgashid.  Waa in aad jirtid 18 sanno ama aad ka weyn tahay si aad uga qeybgashid.

Jessica Londeree, MPH
614-619-0328
Londeree [dot] 3
buckeyemail [dot] osu [dot] edu
---
2014 Engagement Impact Grants
The Somali Women's Health Project is a recipient of the 2014 Engagement Impact Grants.  Ohio State's Office of Outreach and Engagement Impact Grant program supports the application of innovative and creative scholarship to address important societal challenges and fulfills Ohio State's land-grant university commitment to public service by partnering with communities to address challenges of local, national and global significance.