Assistant Professor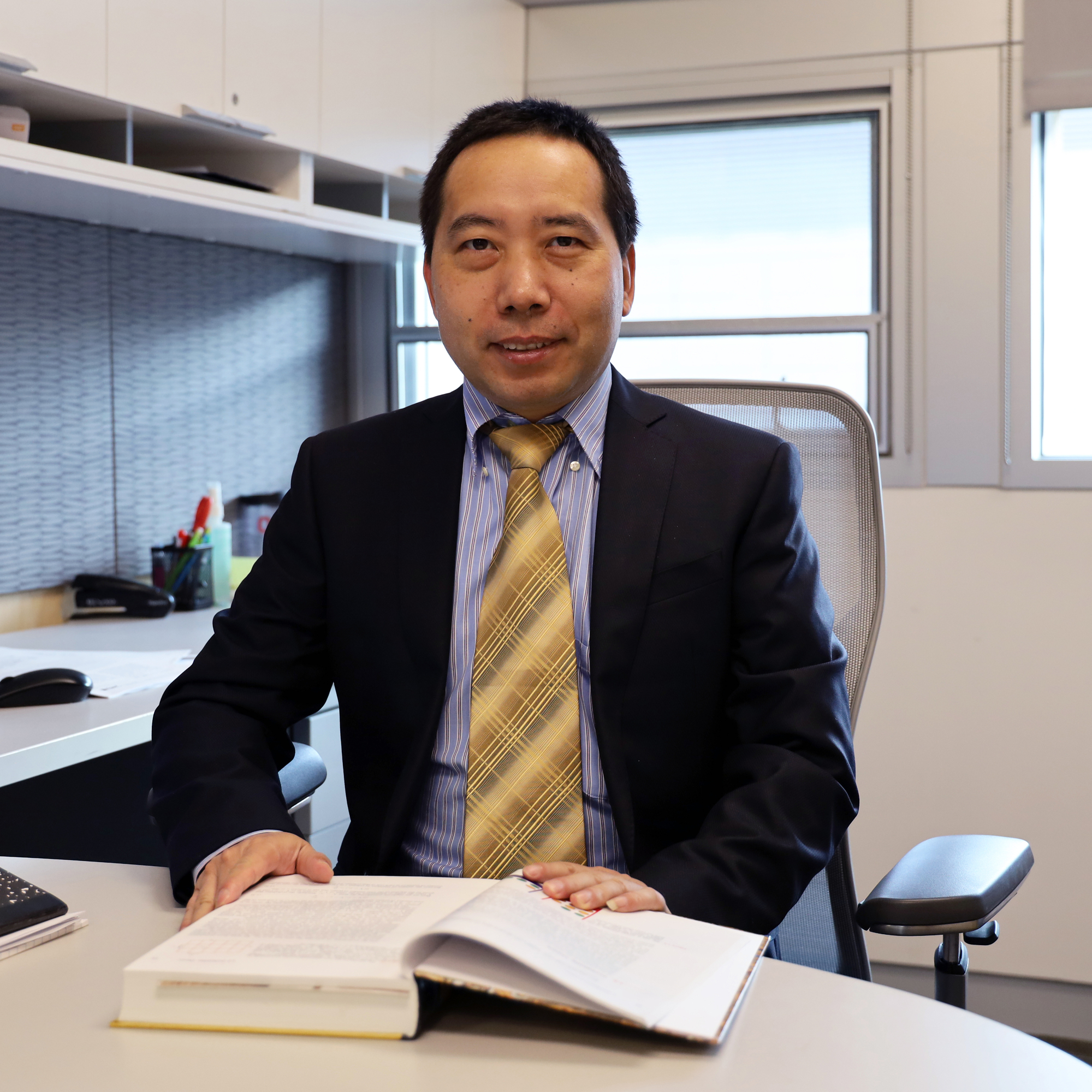 Children and senior citizens are both vulnerable groups when it comes to health, and autism and Alzheimer's disease are major public health challenges facing these populations. My work explores the profound impact of green spaces on both of these health threats – connecting one environmental influence to the health of people from the beginning of their lives through their final years. As we delve into the therapeutic potential of nature, we can find a path toward enhancing the well-being of our youth and elderly.
Dr. Wu's research attempts to understand the connections between environmental factors and human health outcomes using Geographic Information System (GIS), statistics and advanced data analytics. His current research topics include evaluating the use of SARS-COV-2 virus in wastewater as a predictor of COVID-19 infections, examining the effects of green space access on Alzheimer's disease and related dementias, and examining the effects of the exposure to green space on childhood autism.
Environmental Health, Spatial Epidemiology, Green Space, Mental Health, Autism, Infectious Disease, GIS, Machine Learning, Cloud Computing
ORISE Fellow, US Environmental Protection Agency, 2015-2020
MS, Analytics, Georgia Institute of Technology, 2020
PhD, Environmental Health, University of North Carolina at Chapel Hill, 2011
MS, Public Health, University of Massachusetts, Amherst, 2007
Wu J, Hilborn ED, Schaeffer BA, Urquhart E, Coffer MM, Lin CJ, Egorov AI. (2021). Acute health effects associated with satellite-determined cyanobacterial blooms in a drinking water source in Massachusetts. Environmental Health. 20(1):1-3.
Wu J, Jackson L. (2021). Greenspace inversely associated with the risk of Alzheimer's disease in the mid-Atlantic United States. Earth. 2(1):140-50.
Wu J, Song C, Dubinsky EA, Stewart JR. (2021). Tracking major sources of water contamination using machine learning. Frontiers in Microbiology. 11:616692.
Wu J. (2020). Challenges for safe and healthy drinking water in China. Current Environmental Health Reports. 7(3):292-302.
Wu J. (2019). Linking landscape patterns to sources of water contamination: implications for tracking fecal contaminants with geospatial and Bayesian approaches. Science of the Total Environment. 650, 1149-1157.
Wu J, Yunus M, Ali M, Escamilla V, Emch M. (2018). Influences of heatwave, rainfall, and tree cover on cholera in Bangladesh. Environment International, 120, 304-311.
Wu J, Rappazzo K, Simpson R, Joodi G, Pursell I, Mounsey P, Cascio W, Jackson L. (2018). Exploring links between greenspace and sudden unexpected death: a spatial analysis. Environment International. 113, 114-121.
Wu J and Jackson L. (2017). Inverse relationship between urban green space and childhood autism in California Elementary School Districts. Environment International. 107, 140-146.
Wu J, Yunus M, Islam MD, Emch M. (2016). Influence of climate extremes and land use on fecal contamination of shallow tubewells in Bangladesh. Environmental Science &Technology. 50 (5), 2669–2676.
Wu J, Tschakert P, Kluste E, Ferring D, Ricciardi V, Hausermann H, Oppong J, Smithwick EAH. (2015). Buruli ulcer disease and its association with land cover in southwest Ghana. PLoS Neglected Tropical Diseases 9(6): e0003840
Wu J, Zhou Y, Gao Y, Fu J, Johnson B, Huang C, Kim Y, Liu Y. (2014). Estimation and uncertainty analysis of impacts of future heat waves on mortality in the eastern United States. Environmental Health Perspectives 122:10-16.
Wu J, Dhingra R, Gambhir M, Remais J. (2013). Sensitivity analysis of infectious disease models: methods, advances and their application. Journal of the Royal Society Interface 10(86), 20121018. doi: 10.1098/rsif.2012.1018.
Wu J, Long SC, Des D, Dorner SM. (2011). Are microbial indicators and pathogens correlated? A statistical analysis of 40 years of research. Journal of water and health. 9(2):265-278.