Paul Matherny aims to support survivors of sexual violence and addiction with healing resources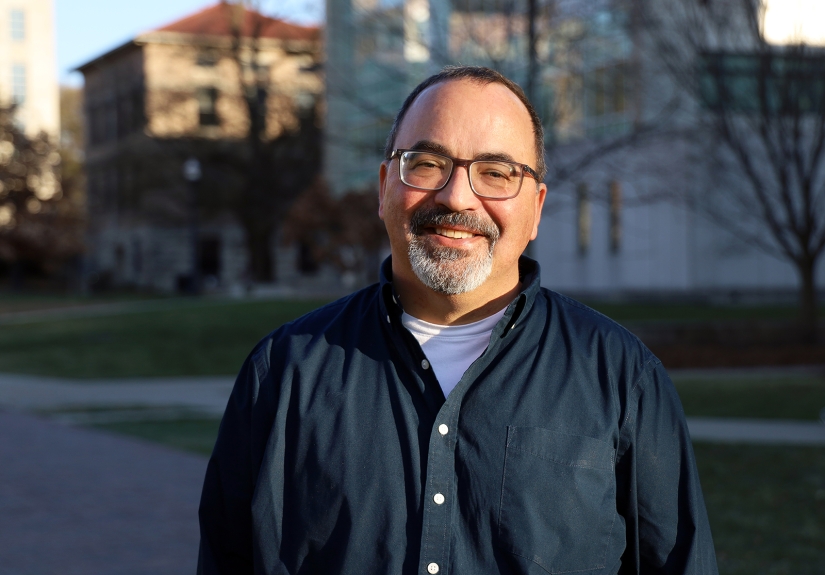 Paul Matherny didn't plan to commit his life to public health — he was called to it. A long-time community activist, his dedication to helping people experiencing life at the intersection of sexual and domestic violence, incarceration and addiction is deeply personal.
Matherny made the decision to seek help for his alcohol addiction 25 years ago. In his journey to sobriety, he felt flooded by intrusive memories of traumatic events from his childhood, memories he'd long sought to avoid. Active addiction made him feel hopeless, but therapy and facilitated weekends for male survivors of sexual violence helped him see another way was possible, he said.
That perspective drove him to help others.
"I'm a healthier partner, I'm a healthier father, I'm a healthier member of my community because I've been able to work through these forces that kept me trapped," Matherny said.
A student in the College of Public Health's online Master of Public Health Program for Experienced Professionals (PEP), Matherny serves as co-director of Healing Outreach for Men Everywhere (HOME) with MenHealing, which puts resources about the impacts of sexual assault and healing into the hands of incarcerated men.
The HOME project works in collaboration with the Ohio Department of Rehabilitation and Corrections and other community partners. The project team put its first set of materials onto 45,000 tablets in the Ohio prison system in September 2021 and has since worked to provide accessible materials beyond Ohio. These materials include a breakdown of facts and common misunderstandings about male survivors of sexual assault, skills for healing and reframing trauma, and videos of survivors telling their stories with messages of hope.
Additionally, Matherny coordinated with Narcotics Anonymous to get a variety of resources related to addiction recovery placed on prison tablets in Indiana and Ohio. He was drawn to outreach with incarcerated populations after reflecting on how vulnerable individuals struggling with addiction are treated differently by society.
"I think about the people who maybe didn't get the breaks that I got," he said. "I think about social determinants of health, race, ethnicity [and] some consequences related to my unhealthy choices that I was able to avoid, but maybe other people couldn't.
Public health education
Matherny is an Ohio State employee and has worked in grant and project management for more than 20 years and currently serves as associate director for a multi-state research project examining opioid misuse and overdose.
His interest in community engagement reaches back to the 1990s when he visited high schools, colleges and businesses to speak about LGBTQ rights as part of a series he called "Gay 101." As Ohioans prepared to vote on a 2004 constitutional amendment defining marriage as a union between a man and woman, he would set up a table in the Short North to strike up conversations with passersby and encourage them to vote no.
After years doing volunteer outreach in the central Ohio community with the LGBTQ community, sexual violence survivors, and participating in an international mutual support group for addiction recovery, Matherny decided to pursue an MPH.
Andrew Wapner, director of the PEP program, said the varied life and professional experiences PEP students bring to the classroom makes it an enriching environment for learning.
"The thing that strikes me about Paul is, his life experience is important, and he's taking his life experience and turning it into avenues to support other people," Wapner said. "He's doing it on a personal level, he's doing it on a systems level and he's growing himself to be able to serve people more."
For Matherny, the PEP program has been a space to build on his advocacy work and focus the frustrations he feels about big issues such as health care inequities, addiction stigma and climbing overdose deaths.
"We all have a responsibility to have these kinds of conversations," he said. "I'm excited to be learning new things, gain new perspectives, and to employ different techniques in the volunteer work I've already been doing."