Background in bioengineering shapes MPH student's creative problem-solving mindset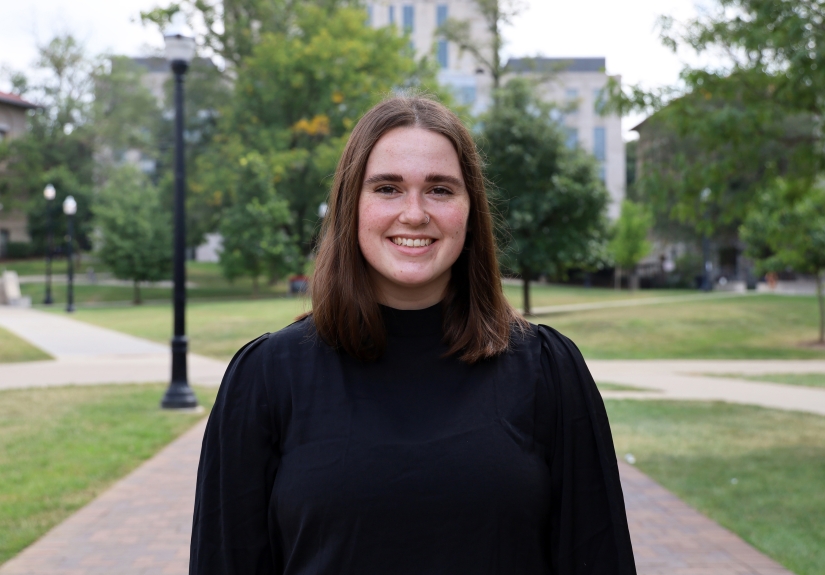 Meet Anna Walker, a second-year MPH student in epidemiology motivated by their interests in infectious disease and environmental health.
What drew you to the field of epidemiology?
I've always had an interest in infectious disease. I spent a lot of time during high school reading books about virology, historic plagues and epidemics, and the future of zoonoses (an infectious disease that has jumped from a non-human animal to humans). However, because so many of those books that I read featured people from clinical backgrounds, it took me until the beginning of the COVID-19 pandemic to realize I could pursue a career related to these interests without being a medical or veterinary professional. Once I saw the number of people involved with the public health system during the pandemic, I knew that pursuing an MPH was the way for me to finally pursue my interests.
What public health topics are you most passionate about?
I'm most passionate about infectious disease and environmental epidemiology. Environmental health and infectious disease both play an enormous role in the well-being of communities. 
These areas have a lot of crossover because our environment can greatly influence the spread of diseases —consider public health concerns such as water-borne illnesses, food contamination and spread of arboviruses (infections caused by a group of viruses spread to people through insects such as mosquitoes and ticks). I am especially interested in vector-borne illnesses and parasites because the systems of transmission and infection are so intricate. This creates challenges in reducing the spread of infectious agents, but it also can provide opportunities for multifaceted approaches that target different areas of vector/parasite development. 
You studied bioengineering as an undergraduate student. How does that shape your perspective about public health?
One of the most important skills across the field of engineering is problem solving. Engineers are constantly identifying issues so they can design creative and helpful solutions. Throughout my bioengineering program, we learned a variety of ways to generate these solutions. The three that stuck with me the most were biomimicry (emulating elements or systems from nature), lean principles (identifying "waste" to optimize systems) and interdisciplinary collaboration. This foundation has shaped the way I approach public health problems because it has given me a system and resources to evaluate the issue and creatively develop potential solutions. 
You completed your Applied Practice Experience at the Licking County Health Department over the summer. What did you enjoy most about that internship?
I loved how much time I spent outside during my internship this summer. As an environmental health intern, I spent most of my time working with the vector program — trapping, identifying, and testing mosquitoes for West Nile Virus, applying different types of insecticide to control mosquito populations based on the data I collected and helping with tick identifications were all super interesting to me. I also had the opportunity to participate in some of the other environmental health programs, such as collecting water samples from wells and performing inspections for illicit discharge into waterways. This was a very great way to meet many residents of the county and learn more about the area.
What has been the most impactful part of your time at the College of Public Health?
Meeting peers who are also passionate about public health has been so inspiring and affirming. In the last couple of years, it has sometimes been disheartening to see so much backlash against public health policy and programs intended to improve peoples' health and well-being — especially as someone who is immunocompromised and still wearing a mask after four years of the pandemic. However, my classmates are all so enthusiastic about sharing their research interests and ideas. It's refreshing and empowering to be able to learn with and from such passionate individuals.
Are you involved in any other academic, professional or student activities?
Yes! I am currently the social chair for the Public Health Graduate Student Association (PHGSA). PHGSA has been an incredible way to meet students outside of my specialization, as well as providing a variety of opportunities to broaden my perspective of public health outside of the classroom.
I also play violin in the Professional Student Orchestra, which is an ensemble that is hosted by Ohio State's College of Medicine. I've played violin since elementary school, so it has been incredible to continue playing with a group. Rehearsals are a great way to take a break from studying and it's been a lot of fun to connect with graduate and professional students outside of CPH and learn about their programs and interests.
What are your goals for the future?
I joke with my friends that I still haven't figured out what I want to be when I grow up because there are so many possibilities that interest me. However, I do know that I want to work for a government organization, likely a local or state health agency. I want to work on programs that directly work with local communities to support their health needs and improve their well-being. On a personal side, I plan to up my running distance from half marathons to marathons once I'm done with school and have more time to train!
What do you hope for the future of public health?
I hope to see continued (and increased) funding for infectious disease research and prevention in the United States. Especially with the effects of climate change looming over us, research is warning us that the number of zoonoses is likely to increase and the spread of currently identified infectious diseases will only continue to worsen.