Professor and Dean's Fellow for Diversity, Equity and Inclusive Excellence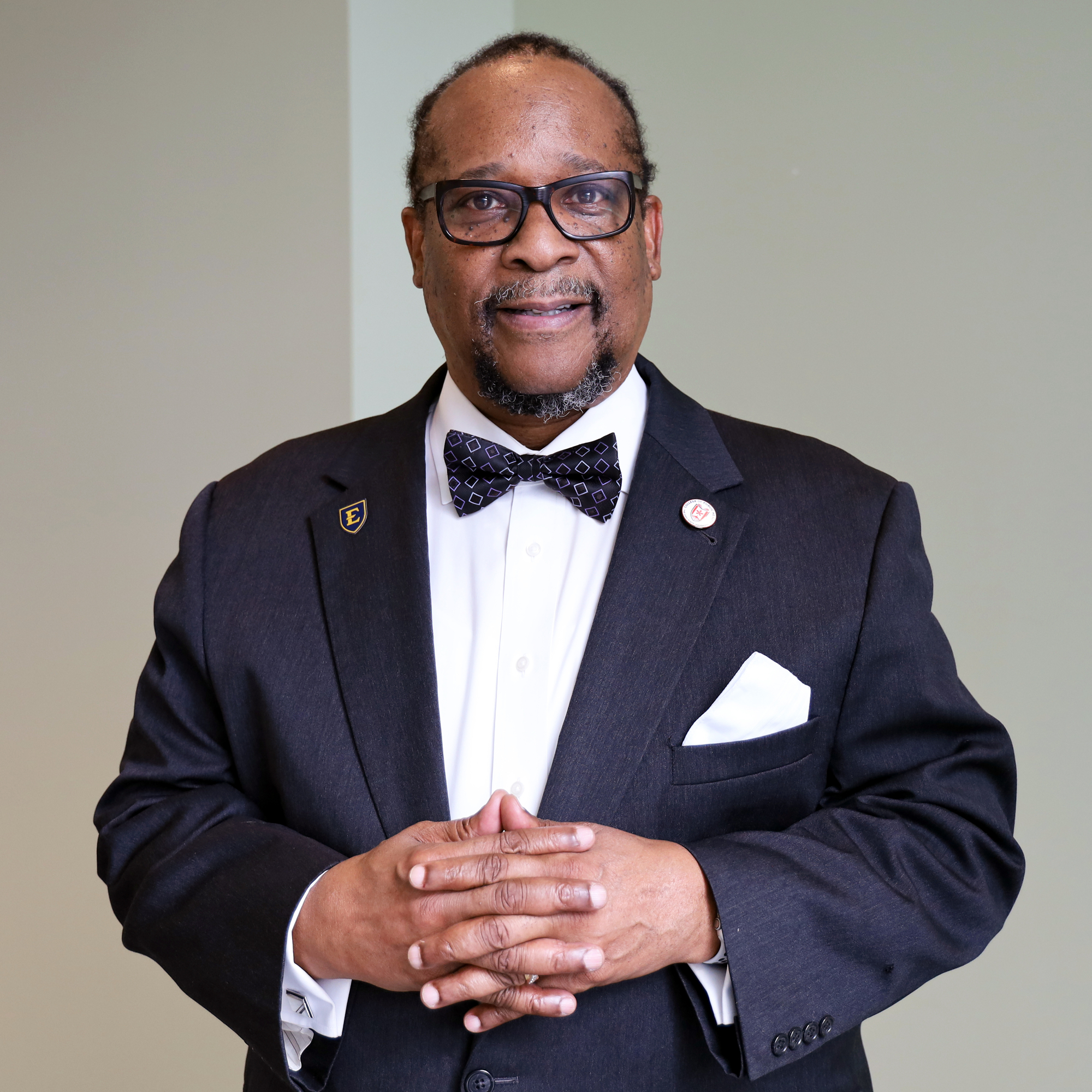 I spent the first 20 years of my career unraveling the molecular-level mechanisms in the central nervous system that give rise to behavioral learning and memory deficits, which are relevant to children and adolescents who live close to sources of environmental pollution. I'll spend the next 20 years continuing my innovation in discovery as co-architect of the Public Health Exposome framework focused on determining if there are associations between the built, natural, physical and social environment and the disparate health outcomes in vulnerable populations.
Darryl B. Hood, Ph.D. is a Professor and environmental neuroscientist in the Division of Environmental Health Sciences in the College of Public Health at The Ohio State University. Dr. Hood received a BS degree in Biology and Chemistry from Johnson C. Smith University in Charlotte, NC. and a Ph.D. in Biochemistry from the Quillen-Dishner College of Medicine at East Tennessee State University. After completing a nearly 4-year postdoctoral fellowship at the Center in Molecular Toxicology at Vanderbilt University School of Medicine in 1993, Dr. Hood accepted a position at Meharry Medical College and served meritoriously until 2013 on the faculty of both Meharry Medical College and Vanderbilt University School of Medicine in the Department of Pharmacology and Neuroscience. During this he received over $11.2 million dollars of research funding.  The initial project in 1994 at Meharry Medical College was entitled "Acute and Sub-chronic Toxicity of Benzo(a)pyrene and Fluoranthene in F-344 rats," and funded was at the level of $2.4 million dollars by the Minority Health Professions Foundation and Agency for Toxic Substances and Disease Registry. This project generated considerable interest from NIH and he wrote the competitive renewal in 1997 entitled "Multigenerational Effects of Inhaled B(a)P on Development" that was subsequently funded through 2002 at the level of $2.1 million dollars. These two projects served as the impetus for the development of an independent, investigator-initiated research program where the long-term goal was to determine the operative mechanisms in exposure-induced dysregulation of central nervous system development to impact learning and memory processes. He then wrote a grant entitled "Environmental Ah Receptor Agonists and Cognition" that funded my laboratory at the level of $1.9 million dollars from 2001 through 2006 that was part of a larger $5.4 million dollar Meharry Medical College initiative sponsored by the Office of Minority Health via the Specialized Neuroscience Research Program (SNRP) from the National Institute of Neurological Diseases and Stroke. From 2006-2011, Dr. Hood led what has come to be known as the most successful Minority S11 NIEHS-sponsored initiative referred to as the "Advanced Research Cooperation in Environmental Health (ARCH) Program. The specific title of this program project-like activity was "Mechanisms of Polycyclic Aromatic Hydrocarbon Toxicity". The research conducted under this consortium ultimately contributed to the scientific database that the USEPA used to reassess the levels of polycyclic aromatic hydrocarbon emissions from smokestacks. Such re-assessments have resulted in public policy changes that will serve to decrease the adverse health effects associated with environmental exposures. The Meharry Medical College-Vanderbilt University ARCH Consortium was recognized as being at the interface of successful P01-like research programs in general, and for systems toxicology research, in particular. This construct served as the template that NIH Director, Dr. Elias A. Zerhouni used as the viable, futuristic model for the development of effective scientist-to-scientist interactions between research-intensive universities and historically black colleges and universities.
At the Ohio State University, Dr. Hood has continued his innovation in discovery as the co-architect of the novel Public Health Exposome framework. This paradigm altering framework interrogates hypotheses focused on determining if there are associations between the built, natural and social environment and disparate health outcomes observed in vulnerable populations. Dr. Hood's overall contributions to science have resulted in confirmation that common environmental contaminants such as benzo(a)pyrene can have direct, negative impacts on the developmental expression of key regulators of glutamatergic signaling with associated negative impacts on behavioral learning and memory processes. His cumulative work of over two decades was recently recognized by the USEPA in the 2017 Integrated Risk Information System Assessment (IRIS) for the environmental contaminant benzo(a)pyrene [B(a)P] which cited multiple articles from his laboratory as a basis for recalibrating the reference concentrations (RfC) for inhaled B(a)P exposures in reproductive and neuro-toxicity studies. This represents a significant public policy change. Additionally, at The Ohio State University Dr. Hood has continued his robust environmental justice work in in the high risk and vulnerable underrepresented minority communities of Columbus, OH. Collectively, Dr. Hood has 105 peer-reviewed publications including book chapters and has mentored over 15 MSPH/MPH, 15-PhD and 9-Postdoctoral fellows. He continues to serve on numerous editorial and review boards for scientific journals, government agencies, and academia. Most recently, (2010-2016) he served on the US EPA Exposure and Human Health Subcommittee of the Science Advisory Board.  Recently, he was elected President of Toxicologists of African Origin, a Society of Toxicology special interest group which he covets as a very special honor.
Inhalation Toxicology (prenatal exposure models autism), Developmental neurobiology (somatosensory cortex), Behavioral neurobiology (development of structure-specific paradigms), Environmental and biochemical toxicology (Nitroxides, PAH's), Dispersion modeling of PAH's in environmental justice communities, Structural biology, protein structure and function, Environmental-exposure health assessment questionnaire development, Modeling exposures across lifetime using public health exposome approach
Postdoc, Vanderbilt University School of Medicine, Dept. of Biochemistry and Center in Molecular Toxicology, Biophysics/ Molecular Toxicology, 1990-1994
Ph.D., East Tennessee State University, James H. Quillen College of Medicine, Biomedical Science/Biochemistry, 1990
B.S., Johnson C. Smith University, Biology/Chemistry, 1985
Felix AS, Lehman A, Nolan TS, Sealy-Jefferson S, Breathett K, Hood DB, Addison D, Anderson CM, Cené CW, Warren BJ, Jackson RD, Williams KP. Stress, Resilience, and Cardiovascular Disease Risk Among Black Women. Circ Cardiovasc Qual Outcomes. 2019. Apr;12(4): e005284. doi: 10.1161/CIRCOUTCOMES. 118.005284. PMID: 30909729
Cifuentes P, Reichard J, Im W, Smith S, Colen C, Giurgescu C, Williams KP, Gillespie S, Juarez PD, Hood DB. Application of the Public Health Exposome Framework to Estimate Phenotypes of Resilience in a Model Ohio African-American Women's Cohort. J Urban Health. 2019. Mar;96 (Suppl. 1):57-71.
Paul D. Juarez, Mohammad Tabatabai, R. Burciaga Valdez, Darryl B. Hood, Wansoo Im, Charles Mouton, Cynthia Colen, Mohammad Z. Al-Hamdan, Patricia Matthews-Juarez, Maureen Y. Lichtveld, Daniel Sarpong, Aramandla Ramesh, Michael A. Langston, Gary L. Rogers, Charles A. Phillips, John F. Reichard, Macarius M. Donneyong and William Blot.The Effects of Social, Personal, and Behavioral Risk Factors and PM2.5 on Cardio-Metabolic Disparities in a Cohort of Community Health Center Patients. IJERPH, 2020. 17, 3561; doi:10.3390/ijerph17103561
Juarez PD, Hood DB, Rogers GL, Baktash SH, Saxton AM, Matthews-Juarez P, Im W, Cifuentes MP, Phillips CA, Lichtveld MY, Langston MA. A novel approach to analyzing lung cancer mortality disparities: Using the exposome and a graph-theoretical toolchain. Environ Dis 2017; 2: 33-44. PMID: 29152601
Clark, RS, Pellom, ST, Booker, B, Ramesh, A, Zhang, T, SHanker, A, Maguire, M, Juarez, P, Matthews-Juarez, P, Langston, M., Lichtveld, M. and Hood, DB. Validation of research trajectory 1 of an Exposome framework: Exposure to benzo(a)pyrene confers enhanced susceptibility tobacterial infection." Environ Res. Vol. 146, 2016: p173-184. PubMed PMID: 26765097
Langston MA, Levine RS, Kilbourne BJ, Rogers GL, Kershenbaum AD, Baktash SH, Coughlin SS, Saxton AM, Agboto VK, Hood DB, Litchveld MY, Oyana TJ, Matthews-Juarez P, Juarez PD. Scalable combinatorial tools for health disparities research. Int J Environ Res Public Health. 2014 Oct 10;11(10):10419-43. PubMed PMID: 25310540
Juarez PD, Matthews-Juarez P, Hood DB, Im W, Levine RS, Kilbourne BJ, Langston MA, Al-Hamdan MZ, Crosson WL, Estes MG, Estes SM, Agboto VK, Robinson P, Wilson S, Lichtveld MY. The public health exposome: a population-based, exposure science approach to health disparities research. Int J Environ Res Public Health. 2014 Dec;11(12):12866-95. PubMed PMID: 25590101
Hood DB, Nayyar T, Ramesh A, Greenwood M, Inyang F. Modulation in the developmental expression profile of Sp1 subsequent to transplacental exposure of fetal rats to desorbed benzo[a]pyrene following maternal inhalation. Inhal Toxicol. 2000 Jun;12(6):511-35. PubMed PMID: 10880142.
Ramesh A, Greenwood M, Inyang F, Hood DB. Toxicokinetics of inhaled benzo[a]pyrene: plasma and lung bioavailability. Inhal Toxicol. 2001 Jun;13(6):533-55. PubMed PMID: 11445891.
Laknaur A, Foster TL, Bobb LE, Ramesh A, Ladson GM, Hood DB, Al-Hendy A, Thota C. Altered expression of histone deacetylases, inflammatory cytokines and contractile-associated factors in uterine myometrium of Long Evans rats gestationally exposed to benzo(a)pyrene. J. Appl. Toxicol. 2015 PMID: 26358852.
Wu J, Ramesh A, Nayyar T, Hood DB. Assessment of metabolites and AhR and CYP1A1 mRNA expression subsequent to prenatal exposure to inhaled benzo(a)pyrene. Int J Dev Neurosci. 2003 Oct;21(6):333-46. PubMed PMID: 12927582.
Wormley DD, Ramesh A, Hood DB. Environmental contaminant-mixture effects on CNS development, plasticity, and behavior. Toxicol Appl Pharmacol. 2004 May 15;197(1):49-65. PubMed PMID: 15126074.
Wormley DD, Chirwa S, Nayyar T, Wu J, Johnson S, Brown LA, Harris E, Hood DB. Inhaled benzo(a)pyrene impairs long-term potentiation in the F1 generation rat dentate gyrus. Cell Mol Biol (Noisy-le-grand). 2004 Sep;50(6):715-21. PubMed PMID: 15641162.
Hood DB, Woods L, Brown L, Johnson S, Ebner FF. Gestational 2,3,7,8-tetrachlorodibenzo-p-dioxin exposure effects on sensory cortex function. Neurotoxicology. 2006 Dec;27(6):1032-42. PubMed PMID: 16839606.
McCallister MM, Li Z, Zhang T, Ramesh A, Clark RS, et al. Revealing Behavioral Learning Deficit Phenotypes Subsequent to in utero Exposure to Benzo(a)pyrene. Toxicological Sciences. 2015 Sept; 13: 1-13. PMID: 26420751
McCallister MM, Maguire M, Ramesh A, Aimin Q, Liu S, Khoshbouei H, Aschner M, Ebner FF, Hood DB. Prenatal exposure to benzo(a)pyrene impairs later-life cortical neuronal function. Neurotoxicology. 2008 Sep;29(5):846-54. PubMed PMID: 18761371; PubMed Central PMCID: PMC2752856.
Ford GD, Ford BD, Steele EC Jr, Gates A, Hood D, Matthews MA, Mirza S, Macleish PR. Analysis of transcriptional profiles and functional clustering of global cerebellar gene expression in PCD3J mice. Biochem Biophys Res Commun. 2008 Dec 12;377(2):556-61. PubMed PMID: 18930027; PubMed Central PMCID: PMC2628286.
Sheng L, Ding X, Ferguson M, McCallister M, Rhoades R, Maguire M, Ramesh A, Aschner M, Campbell D, Levitt P, Hood DB. Prenatal polycyclic aromatic hydrocarbon exposure leads to behavioral deficits and downregulation of receptor tyrosine kinase, MET. Toxicol Sci. 2010 Dec;118(2):625-34. PubMed PMID: 20889680; PubMed Central PMCID: PMC2984527.
Li Z, Chadalapaka G, Ramesh A, Khoshbouei H, Maguire M, Safe S, Rhoades RE, Clark R, Jules G, McCallister M, Aschner M, Hood DB. PAH particles perturb prenatal processes and phenotypes: protection from deficits in object discrimination afforded by dampening of brain oxidoreductase following in utero exposure to inhaled benzo(a)pyrene. Toxicol Sci. 2012 Jan;125(1):233-47. PubMed PMID: 21987461; PubMed Central PMCID: PMC3243744.
Chinonso N. Ogojiaku, JC Allen, Rexford Anson-Dwamena, Kierra S. Barnett, Olorunfemi Adetona, Wansoo Im, Darryl B. Hood. The Health Opportunity Index: Understanding the Input to Disparate Health Outcomes in Vulnerable and High-Risk Census Tracts. Int. J. Environ. Res. Public Health 2020, 17, (in press)
John F. Obrycki, Tyler Serafini, Darryl B. Hood, Chris Alexander, Pam Blais, Nicholas T.
Basta. Using Public Health Data for Soil Pb Hazard Management. Ohio J Public Health Manag. Pract. 2017 Jan 11. doi: 10.1097/PHH.0000000000000488. [Epub ahead of print] PMID: 28079647
Stokes SC, Hood DB, Zokovitch J, Close FT. Blueprint for communicating risk and preventing environmental injustice. J Health Care Poor Underserved. 2010 Feb;21(1):35-52. PubMed PMID: 20173254.
Jiao Y, Bower JK, Im W, Basta N, Obrycki J, Al-Hamdan MZ, Wilder A, Bollinger CE, Zhang T, Hatten L Sr, Hatten J, Hood DB. Int J Environ Res Public Health. 2016 Dec 22;13(1):ijerph13010011. doi:10.3390/ijerph13010011. PMID:26703664
PubMed URL: https://www.ncbi.nlm.nih.gov/myncbi/darryl.hood.1/bibliography/public/