Internships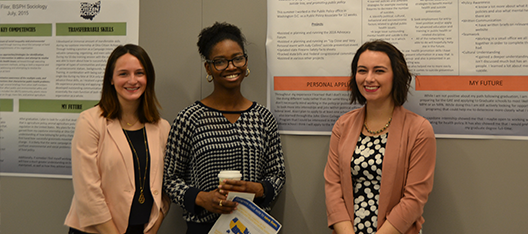 The internship experience is meant to provide public health students the opportunity to build upon their public health coursework and to apply public health principles to experiences outside of the classroom. Learn more about internships and the capstone experience.
Undergraduate Research
The Ohio State Office of Undergraduate Research and Creative Inquiry helps students pursue research opportunities and posts current research opportunities at The Ohio State University. The office provides opportunities for students to:
Apply for funding
Present at forums
Explore resources
Publish in journals
Research Flowchart
Students that are interested in pursuing research can refer to this flowchart to learn further information about available research options for both honors and non-honors students.
Research Capstone Options:
Students have two options when completing their research capstone.
1. Research Experience – Available for non-honors students only, a research experience provides students with an opportunity to get involved in public health research without requiring a thesis.
2. Research Thesis – Available for both honors and non-honors students, engaging in research in public health that culminates in an undergraduate research thesis allows you to receive the designation of Graduation with Research Distinction in Public Health or Graduation with Honors Distinction in Public Health on your diploma. Get details about requirements and the application process.