Faculty member honored by American Sexually Transmitted Diseases Association
Bill Miller, professor of epidemiology and senior associate dean of research, was named the recipient of the American Sexually Transmitted Diseases Association's 2021 Achievement Award.
The ASTDA Achievement Award honors a mid-career individual who has made significant contributions toward the prevention, control and ultimate eradication of sexually transmitted infections — either through an outstanding body of work or a single major achievement in the field. 
Working globally and domestically, Miller has focused on many STI-related areas such as partner services, spatial epidemiology, sexual and social networks, surveillance and access to services. He has sought to improve research methods and study design, while also encouraging the next generation of STI researchers. He is currently editor-in-chief of the journal Sexually Transmitted Diseases.
The ASTDA also presented the 2021 Distinguished Career Award to Cornelis (Kees) Rietmeijer, and the 2021 Young Investigator Award to Anna Cope, a former doctoral student of Miller's who now works as an epidemiologist at the Centers for Disease Control and Prevention.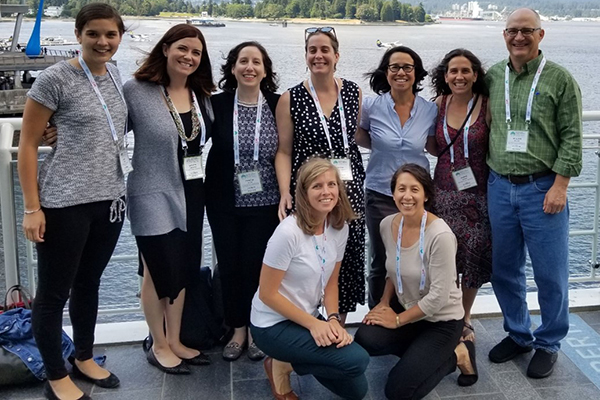 Miller, top right, poses with Cope, bottom left, and his other former students at the International Society for Sexually Transmitted Diseases Research biannual meeting in Vancouver in 2019.
---
"It's extra special to me to have the Young Investigator Award go to one of my students," Miller said. "My students' success is what I am most proud of in my career."
The awards will be presented in July at the 2021 STI and HIV World Congress