CPH's Scot Erbe, Ashley Felix and Amy Ferketich recognized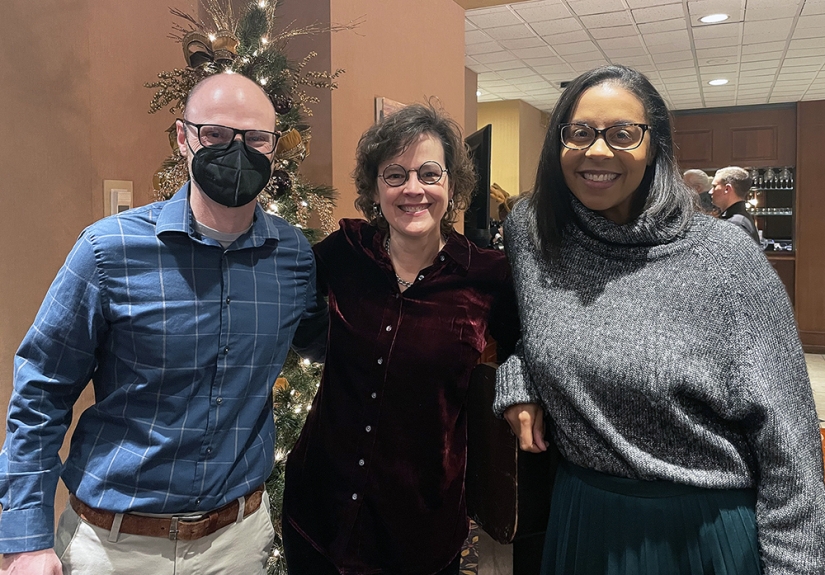 The College of Public Health honored three members of the faculty and staff who exemplify the university's shared values and commitments to excellence, diversity and innovation as part of the second annual College of Public Health Ethics at Ohio State (ETHOS) Awards.
Scot Erbe, facilities manager and lab compliance officer, and Ashley Felix, associate professor of epidemiology, were recognized with the Excellence & Impact Award for their work embodying the principles of strong leadership in pursuit of the CPH vision and mission.
Amy Ferketich, professor of epidemiology, was honored with the Diversity & Innovation Award in recognition of how she embodies the principles of welcoming differences and making connections among people and ideas.
All three recipients—nominated by their CPH colleagues—were celebrated by Dean Amy Fairchild at the CPH faculty and staff holiday breakfast held this month. Fairchild granted each award winner a CPH coin, a special recognition of their hard work and dedication to the college's mission and an expression of deep gratitude. The recipients also receive a monetary award.
The ETHOS Awards were created to recognize CPH faculty and staff who exemplify Ohio State's shared values of excellence and impact, diversity and innovation, inclusion and equity, care and compassion, and integrity and respect.
Erbe was recognized for his role as an integral facilitator of growth in the college, supporting the CPH mission with determination, patience and problem-solving.
Felix was lauded as a kind and attentive leader who has helps give voice to junior faculty members and "exemplifies every hallmark of excellence and impact."
Ferketich was honored for her hard work as a collaborator, for recognizing the potential in others and actively seeking perspectives from students, staff and faculty.