McCullough serves as the CPH military community advocate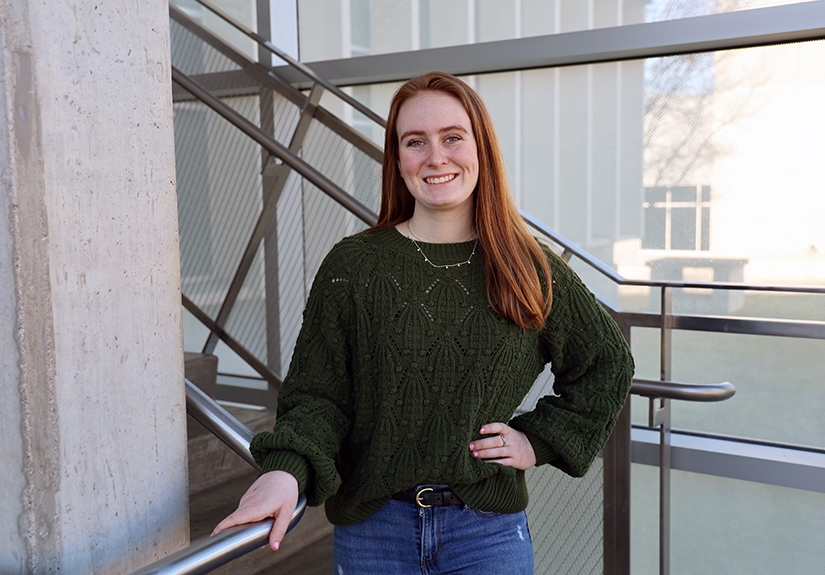 Meet Cameron McCullough, a junior from Zanesville, Ohio, majoring in public health sociology, passionate about public service, harm reduction. 
What drew you to a public health education?
I began my college education as a biochemistry student, where I quickly realized I did not have a passion for the lab bench work. I continued this path through my sophomore year but was ultimately looking to pursue my education in an area I was truly passionate about. I worked at a federally qualified health center in high school and loved the experience I had there doing patient surveys and looking for ways to lessen barriers to health care utilizing the social determinants of health. At the time, I didn't realize the impact my very first job would have on the rest of my life. 
As I was looking to change majors, I was looking for ways to get involved in the campus community and began to volunteer at Safe Point, a harm reduction center here in Columbus. This work reminded me a lot of what I did in high school, and I fell in love with harm reduction and breaking the barriers associated with the social determinants of health. 
What has been the most impactful part of your time at the College of Public Health?
Each of my classes challenges me in different ways to expand my thinking and perspective. They have pushed me to learn and even become a better person. This semester I am taking classes on environmental risk assessment and health disparities. They both focus on protecting health in different ways — which I find fascinating. The broad applications and flexibility provided by this program and degree are my favorite things about it.
What has your experience as the CPH military community advocate been like?
The Major Lawrence Miller Military Community Advocacy Program has enabled me to make connections in the greater campus community and be part of a support system for a community of over 2,100 members of the Buckeye military family. I am lucky to be a resource for both faculty and students here on campus.
What inspired you to join Ohio State's Army ROTC?
I knew from a young age that if I wanted to go to college, it would be on me to figure out how to make it work. It wasn't until I was a freshman in high school that I really figured out what that would mean.
I had a teammate who received an appointment to the United States Military Academy and she's the one who inspired me to look into military service. I fell in love with the opportunities that serving in the armed forces would allow and earned the Army ROTC four-year national scholarship and I haven't looked back since. I have loved my experiences with Army ROTC here at Ohio State.
What are your goals for the future?
I plan to commission as a second lieutenant in the U.S. Army and the go on to attend a doctor of osteopathy program. I want to become an orthopedic doctor in the armed forces. I also want to travel the world and visit all seven continents and all the U.S. National Parks.
What do you hope for the future of public health?
I hope that the field of public health continues to expand and become better funded and researched. Prevention of disease is essential to living longer, healthier lives. We need more research on what steps need to be taken systemically and individually to protect vulnerable populations and ensure their well-being.