Career development is an ongoing process consisting of four main recurring steps. These steps include knowing yourself, exploring career options, getting focused and taking action. Here in the College of Public Health, we have planned suggested activities to assist and prepare you for developing your career and becoming career-ready. Your career readiness depends on you and the action steps you take.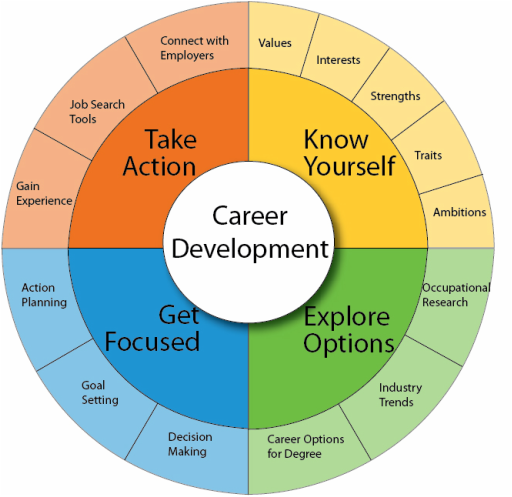 Knowing Yourself (Self- Assessment)
Self-assessment is the first and most important step in the career-planning process. Having the ability to integrate your interests, values, skills and personality into an understanding of work environments tasks and responsibilities will help you determine career options that fit you. As a Buckeye, you have many opportunities to engage in career assessments. Here are a few that we highly encourage you to take advantage of.
Focus Career Assessment - This assessment will allow you to gather information to get to know yourself, provide you with career fields to research and explore and introduce you to career readiness competencies.

Log on to Buckeye OnPace and take the Focus Career Assessment to help you develop your personalized career and education plans.  You will find three assessments under the heading "Career Planning Foundations." You should take each assessment and review the results.

Make an appointment with a Buckeye Careers Coach to discuss results or answer any questions you may have. 

Buckeye Careers offers a variety of career assessments including Myers-Briggs Career Report and the Strengthsfinder 2.0.
Exploring Career Options
After evaluating your skills (things you do well), interests (things you enjoy) and values (what is most important to you), it is time to identify and explore career fields in public health that interest you.
Meet with a Buckeyes Career Coach or utilize drop-in hours with a Career Advisor in the College of Public Health during drop-in hours in the Office of Academic Programs and Student Services to discuss career options and get help from an experienced career professional. Drop-in hours are on Tuesdays from 11:00am-1:00pm more information can be found here.

Prepare early for your required field experiences including the MPH Applied Practice Experience, MHA Administrative Residency and BSPH Capstone, volunteering and other internship opportunities that provide you with the opportunity to explore career options.

Attend career fairs to meet with prospective employers. A listing of career fairs can be found here.

Find ways to network with employers and alumni. Some of the ways include attending career fairs, employer information sessions, or joining Alumni-Fire. A full listing of  University Career Events can be found on Handshake and on the CPH Career Services web page.

Review the Occupational Outlook Handbook and research public health careers.

Conduct informational interviews with alumni, faculty, family and friends from the fields that have a career of interest to you.

Join and attend meetings of professional organizations. Most have a student chapter.

Review the Public Health Careers.org site to find:
Search public health job opportunities across the nation
Connect with State and Territorial Health Departments in all states 
See various career paths and job functions  in public health
Hear from professionals in the field of Public Health
Get Focused
Develop your job search correspondence (resume and cover letter)

Review resume tip sheets and videos
Attend resume workshops
Review cover letter tips sheets
Get your resume reviewed by a career advisor
Know how to tailor your resume and cover letter to a job description

Get Career Ready (Educate Yourself on Career Readiness)

Create a Handshake profile so that you can begin to search and apply for positions and attend career events. Handshake is Ohio State's university-wide job-posting system.

Create a LinkedIn profile. This will also allow you to begin networking virtually.

Practice interviewing.

Practice networking.
Take Action and Conduct Your Job/Internship Search
Use this document to set goals for your job/internship process.
Attend a job-search workshop or review job-search videos.
Attend career fairs and employer events.
Research tips and strategies on accepting a job offer and salary negotiation.