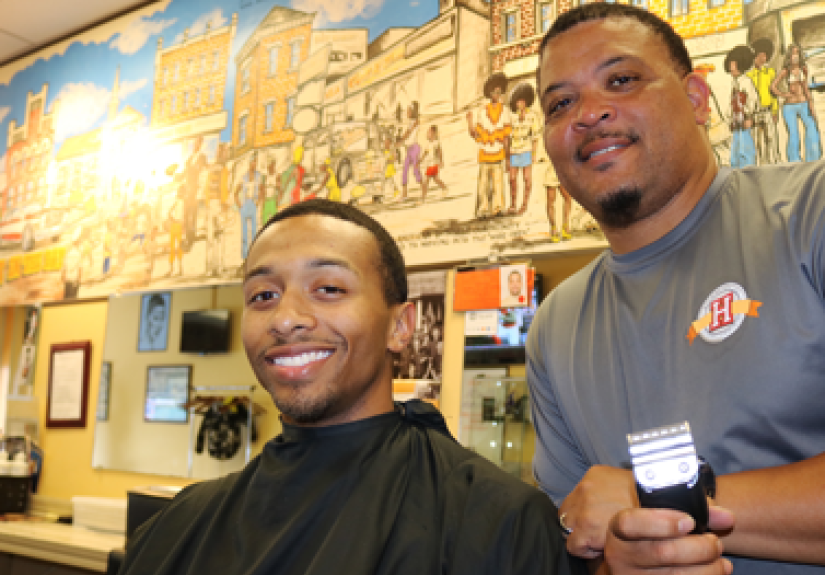 "When I was in elementary school, my dad would cut my hair. I used to get mad at him because he would always nick me and mess up. The final straw was one time he was cutting my hair pretty low and he put a big hole in my hair. I had a huge bald spot and everyone was making fun of me at school.
"That's when I decided my dad wasn't cutting my hair anymore. We knew Al through our church and knew he had a barber shop. Ever since, I've been coming here."
That bald spot tipping point 13 years ago kick-started a special relationship between Al Edmondson, owner of A Cut Above the Rest barber shop, and Robinson, a 2017 BSPH Ohio State graduate. One that goes well beyond shears and styles.
Like he has to many in the Columbus Near East Side community, Edmondson became more than a barber to Robinson. The Gulf War veteran became a mentor, sounding board, and example of a true man of action working every day to improve the well-being of women, men and families in his once-thriving-and-could-be-again neighborhood.
"Blood pressure. Haircut. They go hand-in-hand."
While he has always carried a strong sense of service, Edmondson kept plenty busy in the early days his barbershop building the business and providing expert haircuts.
But the death of one of his customers 15 years ago spurred him to go beyond barbering.
"I had a client who passed away who was a very good friend of mine. He was a diabetic," says Edmondson. "It made me think about how many African-American men come to our barbershops who may have high blood pressure issues and diabetes, and aren't going to the doctor to check it out."
"So I worked with the American Heart Association and talked to them about bringing their information in here to help men learn a little more about diabetes and the health risks for African-American males. I connected with Ohio State's College of Nursing and with Chi Eta Phi, an African-American program for nurses, and they started doing health screenings in the shop.
"At first, men were cautious about getting the screenings," says Edmondson. "They didn't want to know the bad news. But after a while, over the years, they became more comfortable with it. They'd see the sign up and know I was going to ask them about it. Blood pressure, haircut. They go hand in hand."
In 2010, with the health screenings off and rolling in eight different shops within the neighborhood, Edmondson decided it was time to launch a non-profit effort aimed at tackling greater needs in his community. Making a Difference Inc. was born.
"Making a Difference started with a back-to-school rally and then we created a fatherhood program that included basketball clinics," says Edmondson. "You have to find a carrot to get the kids to come in…so we combined school supplies with a basketball camp, which the dads also enjoy. We brought professionals in to speak about wellness."
"I reached out to my friends, the banks, and then to the YMCA because I want people to come out and talk about the importance of having family values," he adds. "I brought Jonathan's father, J. Tracy Robinson, on board to help lead the fatherhood program. We're also trying to provide healthy food options in the corner convenience stores, build economic growth through the Mt. Vernon Business District, and attract a grocery store."
"It's been a great ride."
Edmondson now aims to replicate and expand his model . . . and the impact.
"The newest thing I've put together under the Making A Difference umbrella is the Ohio Black Barber/Beauty Network," says Edmondson. "I reach out to other barbers and beauticians to become part of this network so we can all do this work together in the areas of health and wellness, legislative awareness and youth mentorship."
"People want to do the same things but they don't know how to get the supplies and programs together. So, I'm telling them to join the network which is free, I'll teach you, and you go out in your neighborhood and do the same thing. Duplicate it. We want it to go statewide."
"We've got about 10 shops involved so far and that's how you begin to change your neighborhood. I tell them if they need help, call me, and I'll send somebody out to help them work on community engagement. Then they can be the champion in their neighborhood."
Mentors and "the best clients in the world"
"I always say I'm barber to the stars . . . past, present and future."
The "stars" on Columbus' Near East Side include a Who's Who of American culture, sports and education. Walk into Edmondson's shop and you're greeted with a mural with portraits of Columbus' famed East High School alumni. The icons include the acclaimed writer-humorist James Thurber, three-time All-American Ohio State legend Chic Harley, and McArthur Genius Grant recipient and artist-storyteller Aminah Robinson.
The present-day stars may not be household names, but they shine just as bright as mentors to Edmondson. Doctors, business owners, and budding leaders inspire him.
"I've had good men around me. One of my mentors is sitting right over there, Dr. Hicks. He was an OSU doctor and professor."
Another long-time community leader and A Cut Above the Rest customer is 83-year-old Nelson Crawley, owner of Crawley's Frame Shop since 1975.
"Mr. Crawley comes to the shop and we talk a lot about things that need to be done in the community," Edmondson says. "It's important because you always want to learn from people who have been before you and learn how to jump over different obstacles and deal with different people in the neighborhood, and he's done it all."
"He's been a great role model showing how to navigate certain situations."
"I try to do my best to keep them on the right track and give them important information and sincere information and do all I can to help them continue the legacy out here on the east side," says Crawley.
"When he says legacy, you figure we are both part of the fabric of this community," says Edmondson. "Mr. Crawley passed the torch on to me, and now I'm passing the torch on to young men coming to the neighborhood, whether they're starting new businesses or just need somebody positive that they can look up to. There's a part that everybody plays in the community."
Some of the best lessons come from those sitting in his barber's chair.
"I tell people I've got the best clients in the world because I get the CEOs, the drug dealers, I get everybody," says Edmondson. "I get to talk to them and get a feel for what they're going through and things that they deal with and not be judgmental about their profession. But I get to learn about so many different things. I get to grow and I can take some of the stuff I hear and take those ideas and put them to use."
"I told someone today that I'm doing something to help the businesses in the area and they were like 'wow, how did you come up with that idea?' I said hey, I talk to people every day. I found a need, let's go do it. Let's see if God opens up a door. And if He doesn't, I'm good. And if He does, that's great."
Thriving, decay, and a comeback
The colorful, imaginative mural which stretches across the wall of the shop chronicles the rich heritage of Mt. Vernon Avenue, from the 1940s to the present. Local artist Greg Hawkins captures the flourishing culture and businesses, and of course, the hair and fashion styles through the decades.
"The history of this neighborhood -- back in the 40s, this community was very vibrant, there were a lot of thriving businesses and then it started to die out during the 1990s when crack cocaine and drugs started pouring into the neighborhood, which caused the neighborhood to slide off the map for a little bit," explains Edmondson.
"Now there's a rebirth. We have new investments, we have new businesses. We have new things going on that are bringing people back to the neighborhood. I'm so proud to be president of the business association to help these small businesses find capital to fix up the interiors and exteriors of their buildings."
"It's just been a blessing," he says. "The next 5 or 10 years you're going to see the same vibrancy you saw 60 years ago. People are going to come back and it's going to be a very diverse community, and that's great."
Listening to Edmondson's indisputable confidence in the comeback, you just know it will happen.
"Our overall goal is a healthy community, from a grocery store, to the health services provided in the barber shop, young people coming back with new and innovative ideas to help make neighborhoods like ours a great place to live. We're all trying to play our part in helping make this neighborhood healthier, better. For all those who come and those who leave, they can say, "man, that was a great place."
Freshman year haircut opens the path to public health
So, back to that botched home haircut. After that, Jonathan Robinson enjoyed many years of education in the barbershop. But his career path changed when he walked in one Saturday for a trim before he started his freshman year at Ohio State.
"I walked in and there was a table set up and there were nursing students there with people sitting down getting their blood pressure taken and receiving health education materials. I'd never seen that before so I asked Al what was going on, and he told me it was a new initiative that his non-profit had started to reach out to the community and provide basic health services related to educating people about what resources there are for them and giving them knowledge about how to take care of themselves," recounts Robinson.
"I thought it was really interesting that he was using his barber shop as a mechanism to draw people in to gain knowledge and gain resources in their community. That's how I learned about public health because he told me this was a collaboration between him and Ohio State, and that if I thought I was interested, I should look into public health. I realized public health could be a good match between my interest in the sciences and also my interest in improving people's lives through medicine. "
"So I took a few public health classes and then asked Al how I could get involved," says Robinson. "I went to several health fairs and administered surveys to customers in shops. The surveys helped figure out what services they might need and understand what their basic health metrics."
Forward four years, Robinson graduated with a bachelor's in public health from Ohio State, and has now started pursuing his MHA degree at Johns Hopkins University.
"The thing that I'm most proud of about Jonathan is that he's going to take it to another level," Edmondson says. "He's going to help so many people from just a seed that was planted here in the barber shops. And I know the seed that his dad planted in me, and I can just see it trickling down."
Wait, what's that in the mural?!
Scanning the Mt. Vernon Avenue wall mural, you see the vivid portrayal of the storied street's arts, music, business, and sports history. Looking closer though, there appears to be a family with a gentleman sporting a Michigan jersey.
"That's my younger brother and his family," Edmondson says. "He passed away after the mural was completed."
"He was a Michigan fan. But hey, we embrace everyone here!"