College of Public Health supports student voting outreach
Only 59% of eligible Ohio State students cast their vote in the 2016 presidential election. This year, the College of Public Health hopes to raise that percentage. 
From Instagram campaigns to friendly peer challenges to virtual trainings and more, student organizations ENcompass and the Multicultural Public Health Student Association are encouraging their fellow students to vote and educating them on the barriers people face to submitting a ballot.
"It's very important for students to vote, as we are a large demographic with lots of ideas for innovation for our future and what policies that we hope to see implemented that are inclusive to a diverse and drastically changing society," said Sanjana Srivastava, a fourth-year public health student specializing in environmental public health and MPHSA president. "It's difficult for many students to sort through the overwhelming information and navigate registration and the different avenues to vote. At MPHSA, we strive to give students the resources for success, highlight the need for representation and minimize disparities."

CPH virtual workshop with OSU Votes on Sept. 24
In addition to supporting students' grassroots efforts, college leaders are encouraging faculty to cancel or reschedule classes on election day, Nov. 3, to help increase voter turnout. Both students and staff at the college are working closely with OSU Votes, a university-wide, nonpartisan movement to register students to vote and motivate them to partake in local, state and federal elections.
"Evidence reflects that voting and health are associated. Communities with the greatest health challenges also have lower rates of voter participation," said Jennifer Beard, assistant dean for strategic initiatives. "We can do better. We can support the communities in which we learn and serve to enhance awareness of voting patterns, political engagement and health equity."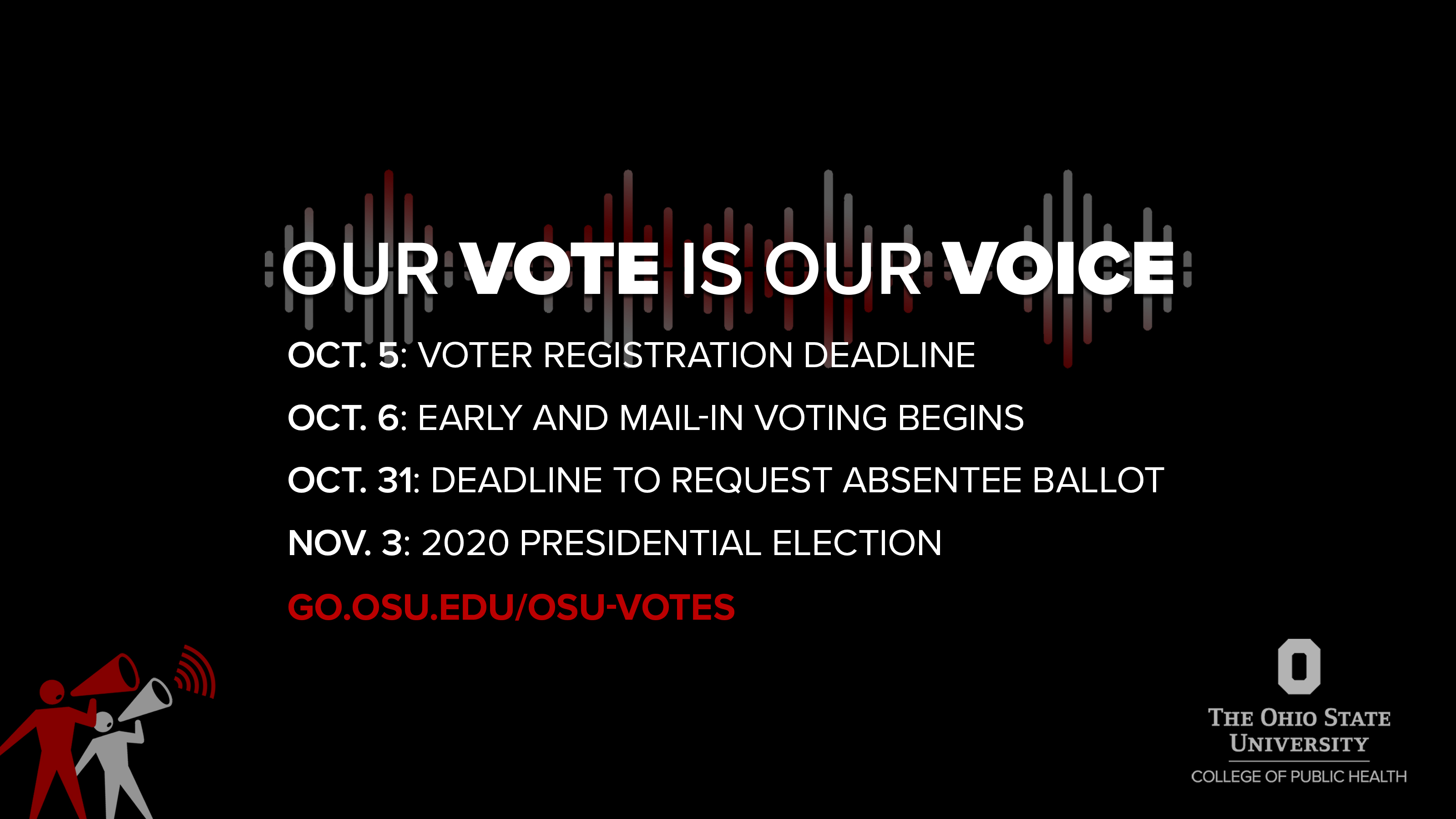 Key dates:
Oct. 5: Voter Registration Deadline
Oct. 6: Early, mail-in voting begins
Oct. 31: Deadline to request an absentee ballot
Nov: 3: 2020 presidential election
Click here for resources associated with each deadline.
To get involved, please contact Amelia Kvalheim (kvalheim [dot] 4
buckeyemail [dot] osu [dot] edu), Sanjana Srivastava (Srivastava [dot] 152
buckeyemail [dot] osu [dot] edu), Mahrukh Naqvi (Naqvi [dot] 25
buckeyemail [dot] osu [dot] edu) or Divya Shankar (shankar [dot] 69
buckeyemail [dot] osu [dot] edu).