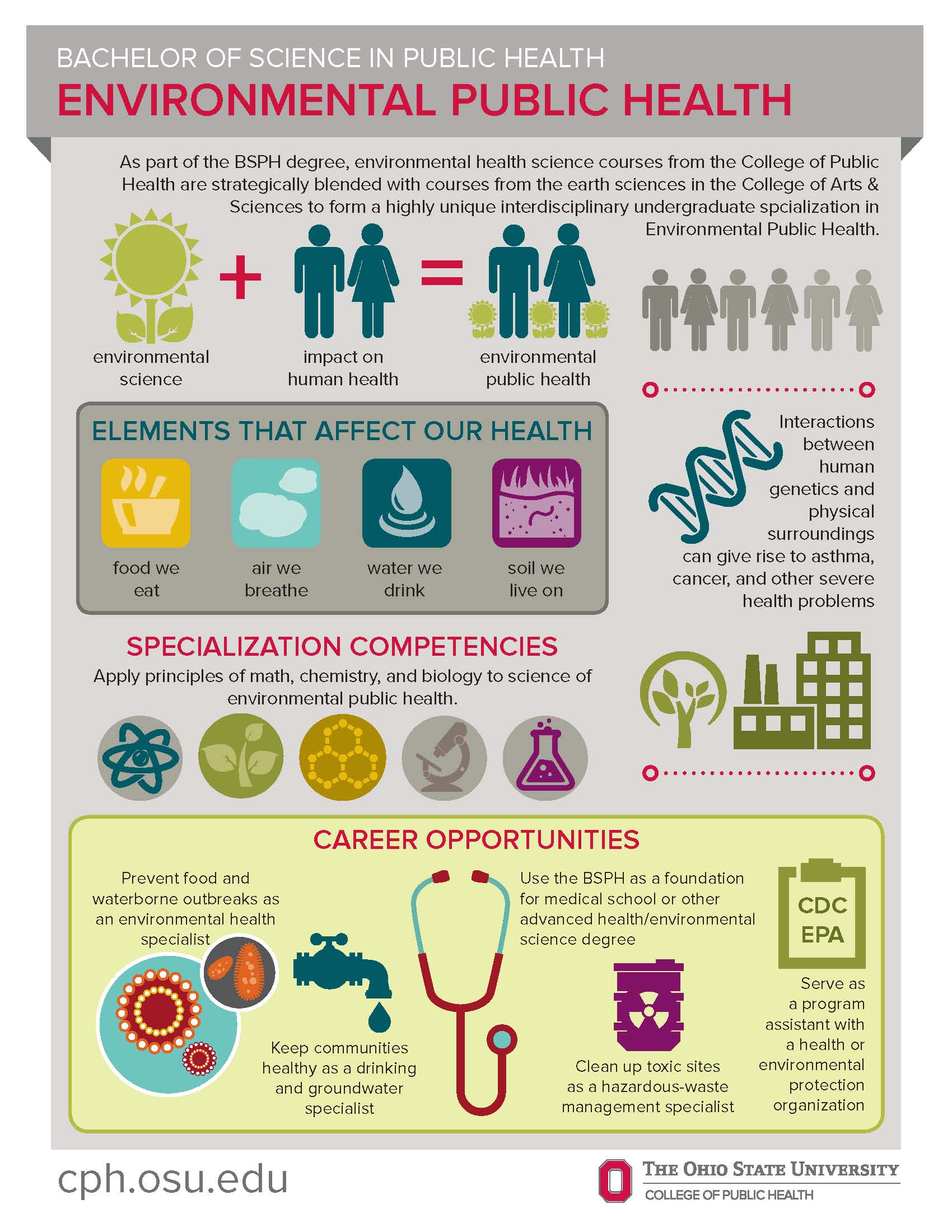 Under the BSPH degree, environmental health science is strategically blended with courses from the earth sciences in the College of Arts & Sciences to form a relatively unique interdisciplinary undergraduate specialization in Environmental Public Health. This program will provide a broad pre-professional foundation covering basic and applied science and math relative to sources of contaminants from and fate in air, water, soil, and food and the related aspects of human exposure and impact.
Environmental Public Health Specialization Competencies
Apply principles of math, chemistry, biology to applied science of environmental public health.
Summarize major sources, hazardous agents, conditions, and other exposure factors that contribute to environmentally-related human diseases.
Describe how the quality of environmental media (air, water, soil, food) are adversely affected by contamination from chemical, biological and physical agents.
Apply theory to environmental public health issues identified within indoor/outdoor and occupational/non-occupational settings.
Calculate, analyze and interpret fundamental statistical, epidemiological, and environmental monitoring/surveillance and risk assessment data.
Summarize management and technical measures and approaches that control human exposure to environmental contaminants.
Identify regulations, policies, standards and guidelines applicable to the quality of air, water, soil and food and the prevention of environmentally-related human exposures and diseases.
Write and communicate applicable scientific and technical summaries.
Career Opportunities
Though many students go straight on to a graduate program in public health (e.g. epidemiology), other graduate degree applied science programs (e.g. microbiology) or clinical doctorates (e.g. medical school, veterinary medicine), entry-level jobs for BSPH graduates are available. Some options include working as an Environmental Health Specialist for local/state/federal government agencies, industry, or consulting firms domestically or internationally. Options could include:
Prevent food and waterborne outbreaks as an environmental health specialist
Keeping communities healthy as a drinking and groundwater specialist

Clean up toxic sites as a hazardous-waste management specialist

Help manage health and safety programs for environmental protection organizations as an environmental health and safety program assistant

Analyze data (soil, air, water) to identify and prevent sources of hazardous waste and pollution as an environmental analyst

Some take advantage of government programs to gain more experience such as serving in the Peace Corps or AmeriCorps, or participating in a CDC training fellowship.