Alison Norris discusses her research and what comes next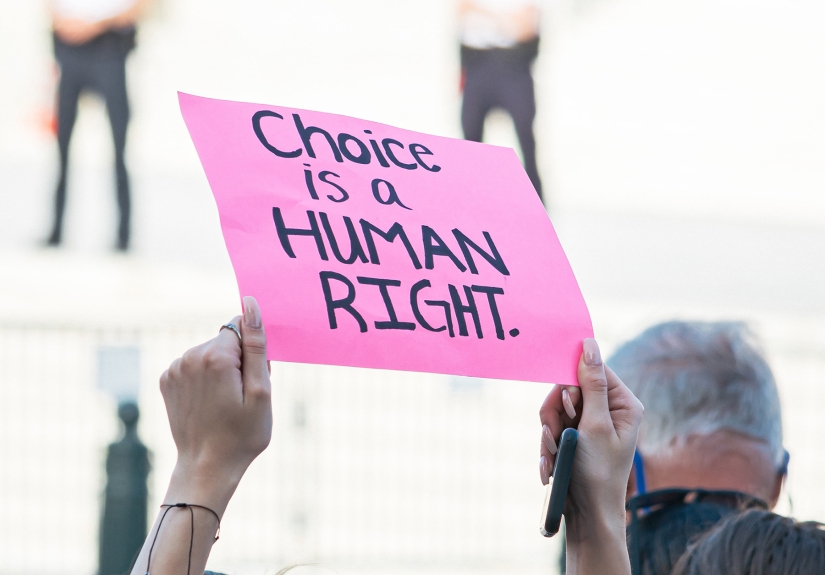 The U.S. Supreme Court overturned 49 years of precedent in June when it ruled against federal abortion protections, creating an uncertain and ever-shifting legal environment for pregnant people and abortion care providers.
Associate Professor Alison Norris, an expert in sexual and reproductive health, has been at the forefront of public health research on the impact of the Dobbs v. Jackson Women's Health Organization decision on vulnerable populations. Norris co-leads the Ohio Policy Evaluation Network (OPEN), a research collaborative that studies reproductive health policy in Ohio and surrounding states, and serves as research co-chair of the #WeCount Project, housed at the Society of Family Planning, which tracks shifts in the number of abortions by state to understand the impact of policy changes across the country.
A recent #WeCount report found 10,670 fewer people in the U.S. had abortions in July and August compared to what would have been anticipated before the Dobbs decision.
Ohio saw a 65% decline in abortion from April to August 2022, according to the report. That decline captures the impact of a 2019 state law banning abortion after cardiac activity, typically six weeks into pregnancy, that went into effect in Ohio after the Supreme Court decision. That law is now, again, on indefinite hold pending an ongoing legal battle.
Norris recently shared her thoughts about health equity, abortion access in Ohio and how her research will build in 2023.
Who has been affected most by the Dobbs decision?
In the #WeCount study, we've been able to measure the dramatic change in the number of abortions in states where abortion was banned or severely restricted. Twenty-three states saw a decrease in the number of abortions provided in the months right after the Dobbs decision. Many states, especially southern states, experienced a 100% decline in abortion. That stunning number means every single person who wanted an abortion either traveled to another state, self-managed or had to continue their unwanted pregnancy.
We know from OPEN research and from scholars across the country that all people who need an abortion are harmed when abortion is restricted. The people who are most challenged in overcoming the hurdles of accessing care are those who have low incomes, are young, or who experience systemic discrimination, such as systemic racism, race-based bias and more. Someone who is poor may need an abortion, but if they use Medicaid for insurance, Medicaid won't pay for that health care. If they have to travel for an abortion to another state, they'll have to pay for a car and gas, and, oftentimes, to spend the night wherever they're getting care, arrange for time off work and care for family members. All those burdens fall much more heavily on people with constrained resources.
Were there any findings in the #WeCount data that surprised you?
There had been anticipation that we would see big increases in the number of abortions provided in protected access states on the East and West coasts. Instead, the surges we saw were in states geographically close to states with bans. This reflects the fact that when people need to travel for health care, they often prefer to travel by car and to go to the closest place. There were big increases in North Carolina, Pennsylvania and Michigan, and huge increases in Illinois.
How would you characterize the state of abortion access in Ohio right now?
We've seen a really clear example in Ohio of abortion care churn. It's the idea that in states with a very high regulatory burden, there's chronic uncertainty around what's going to be allowed, and therefore, what kind of care can be provided. Some of that churn is caused by actual changes in the law and some is caused by people talking about changes to the law.
There were 2,470 fewer abortions in July and August in Ohio as compared to what we would have expected given the pre-Dobbs numbers. That change was driven by the six-week ban. That's a shocking and heartbreaking thing to consider. Thousands of people in Ohio had to be turned away and sent to other states. Some of them may have been able to travel and get the care that they needed. Others would have been forced to continue a pregnancy they didn't want to continue.
How does the Dobbs decision fit into the larger picture of abortion access in Ohio?
Abortion access was quite seriously restricted in Ohio before the Dobbs decision. OPEN was able to document different challenges in accessing care, including that over a five-year period, people in rural parts of the state appear to have had diminished access to abortion care as compared to people living in urban parts of the state. Similarly, we looked at who was able to obtain an abortion before six weeks gestation based on data collected before the Dobbs decision. We found that young people, people who had less education and people of color were less likely to have an abortion before that point.
Why do you think it's important for public health researchers to stay focused on the impact of the Dobbs decision?
Every data point in the #WeCount study represents someone's life that's been upended by abortion bans. Public health scientists must keep the well-being of the people and families who can't access abortion at the center of this story.
There was also a real outpouring across the country to provide funding for people who needed to travel for abortion after Dobbs. Clinics in those protected access states really made a herculean effort to increase access by increasing hours and seeing as many patients as they possibly could, but those efforts may not be sustainable, and it's incumbent on the people who have access to power over laws and policies to focus on getting the health care system operating again.
The need for abortion care is not going to go away.
How do you anticipate your research will build or shift in 2023?
The #WeCount study will continue through March 2023, so we'll have a whole year of data to show the impacts of the Dobbs decision and the other state laws and policies that emerge following the decision.
Part of our OPEN research evaluates people in Ohio, Kentucky and West Virginia who had to travel for care, and we will continue to publish our findings. We also have research that seeks to understand the experiences of Black women regarding reproductive health care and research about the experiences of health care providers in the state. Just as it's confusing for people who are pregnant who need an abortion, the circumstances are also confusing for folks who are providing care.