BSPH student focused on how the cycle of poverty impacts health, opportunities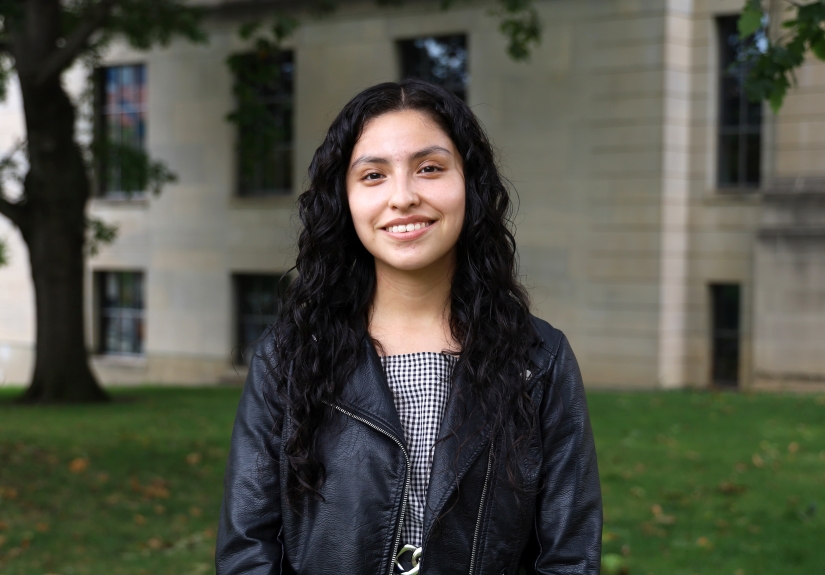 Meet Leslie Aguilar Ramos, a senior majoring in public health sociology whose passion for advancing health equity is rooted in her experience growing up in a predominantly Latino community in San Diego.
What made you want to major in public health?
Looking back on my lived experiences, I have been motivated to investigate the underlying causes of inequities. From learning about differences in health care access in underserved populations to the persistent cycle of poverty that many individuals face, it has helped me connect the dots of my experiences and see how my community has been impacted. Majoring in public health has allowed me to delve deeper into these issues where I've been able to explore topics in greater depth and collaborate with individuals who share my passion for creating a healthy world for all.
What public health topics are you most passionate about?
Health equity. I believe it is crucial to approach (the issue) from a justice perspective, as it allows us to understand the root causes of social determinants of health. Although there are many different aspects of health equity I would love to delve deeper into, my primary focus has been related to anti-poverty work. Through exploration, I have gained valuable insights into how the cycle of poverty can impact health outcomes and opportunities. I am committed to learning more about the interventions and solutions available to make a sustainable difference in the lives of many. 
Over the summer you worked as an intern with the Buckeye Diversity Summer Internship Program. What did you learn from that experience?
I had an amazing time with the Buckeye Diversity Summer Internship Program. It was a great program where I was exposed to the behind-the-scenes of a hospital setting, learning from hospital administrators in various departments. My placement was at (Ohio State University) East Hospital where I worked on projects with Moms2B and employee belonging. The greatest takeaway from my placement was the importance of building great community relationships. 
What are your goals for the future?
My goals for the future are to gain more first-hand public health experience and pursue a dual MPH/MBA degree. I am currently planning on applying to the competitive Bill Emerson National Hunger Fellowship from the Congressional Hunger Center for a gap year experience. This fellowship focuses on developing leaders by providing the tools needed to work on anti-poverty and anti-hunger in the United States. Further into the future, I hope to be in a position where the work I do can make a direct impact on advancing health equity.
What do you hope for the future of public health?
It is my hope the field of public health will continue to inspire and empower individuals to effect change within their communities. Having witnessed firsthand the transformative impact that advocacy from individuals with lived experience can have, I am optimistic knowing people are committed to ensuring that everyone has access to the resources they need to live long, healthy lives.