Undergraduate students approaching graduation gained invaluable experience in areas such as human trafficking, pharmaceuticals and more, and presented their work at a poster session on Dec. 6.
Each semester, the Bachelor of Science in Public Health (BSPH) Capstone Poster Session highlights the accomplishments of College of Public Health undergraduate students' capstone experiences and celebrates the faculty and staff who have helped the students reach their capstone goals.
The capstone project has been a required component of the BSPH curricula since the program's inception in 2012. BSPH major students entering their final three semesters may choose an internship, research project or education abroad as their capstone. A requirement of the capstone is that students present a poster that summarizes their project.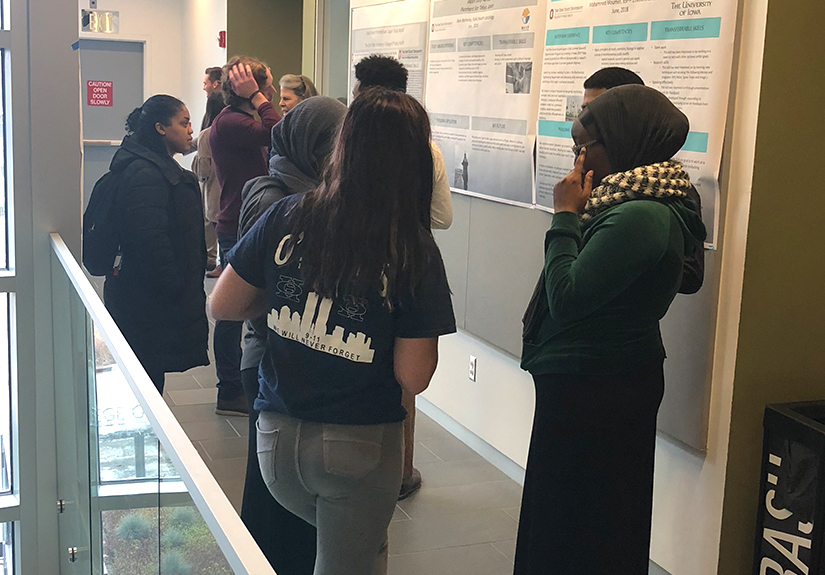 CPH students, faculty and staff observe BSPH students' poster presentations and learn about their experiences.
This year's poster session on Dec. 6 featured students presenting their experiences, including environmental public health senior Jordan Amann.
For her project, Amann completed an internship through the John Glenn Washington Academic Internship Program in the Field Operations Directorate of the Office of Response and Recovery at the Federal Emergency Management Agency (FEMA). Using the professional skills she developed in the capstone experience, Amann plans to continue her public health education in graduate school.
Public health sociology student Julia Jashinski completed her capstone experience with Safe Point at Equitas Health, a comprehensive harm reduction program in Columbus operating the city's only syringe-exchange program. In the future, Jashinski said she plans to attend graduate school for social work.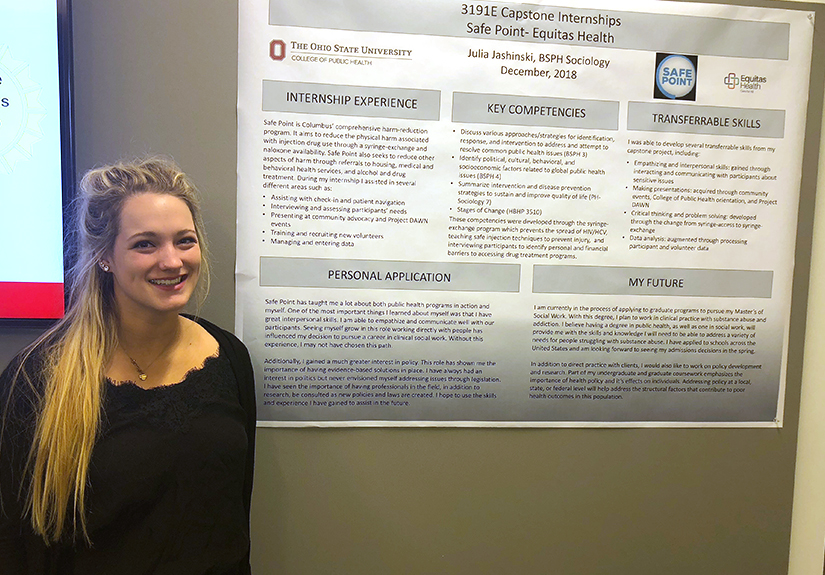 BSPH senior Julia Jashinski presents her capstone experience at Safe Point, a harm reduction program in Columbus.
The capstone allows students to experience professional development opportunities to prepare for the workplace and graduate school. Students like Noa Katz, a senior studying public health sociology, plan to use their experience from their capstone project in their future professions. Katz said she hopes to continue working with underserved populations, ensuring they are met with respect and provided with necessary resources. Katz worked with the Sexual Assault Response Network of Central Ohio to bring a survivor art installation to Ohio State's campus for her capstone project.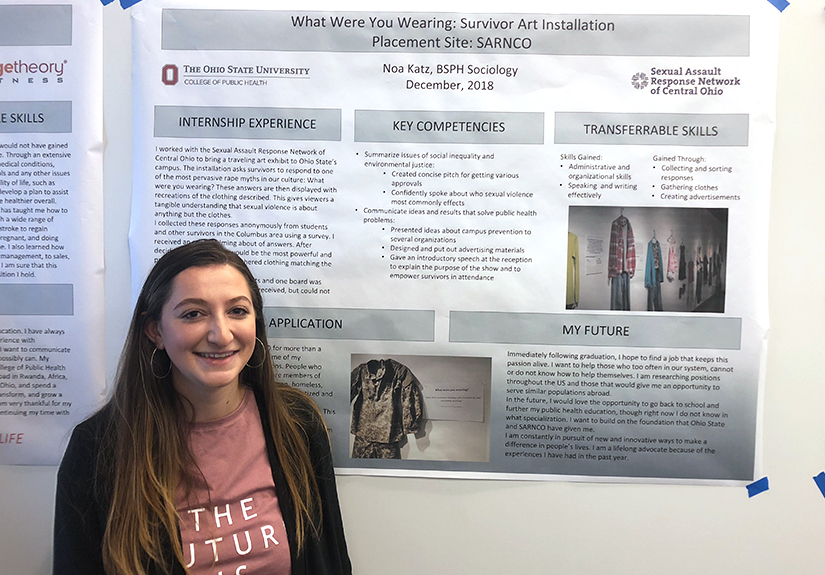 BSPH senior Noa Katz presents her capstone experience at the Sexual Assault Resoonse Network of Central Ohio.
The installation, which was displayed at Cunz Hall in November, asks survivors to respond one of the most pervasive rape myths: What were you wearing? Their answers are accompanied by recreations of the clothing described in an effort to show that the assault was never about the clothes.