With around 100 public health professionals in attendance, the Polaris-area conference supported by the Ohio Department of Health is focused on quality improvement and innovation – work that will positively transform the way public health agencies do their work.
As he welcomed attendees to the start of the conference Tuesday (Nov. 19), Dr. Andy Wapner, director of the center and the college's Master of Public Health Program for Experienced Professionals, spoke of the importance of the gathering and the direction of the college under the leadership of Dean Amy Fairchild.
Wapner, an assistant clinical professor, highlighted a focus on increasing engagement and partnerships with local public health in policy making and advocacy, and an aggressive effort to get programs – including certificates and other professional development opportunities – online.
He also shared Fairchild's fervent commitment to diversity and inclusion.
Laurie Ann Wagner, performance improvement manager for the Connecticut Department of Public Health, offered the conference's keynote address.
Wagner challenged the group to stay curious and look for opportunities to find the strengths in each member of the team as they embark on sometimes-challenging efforts to improve quality in their local departments.
"You don't make a change without involving the people who do the work," she said.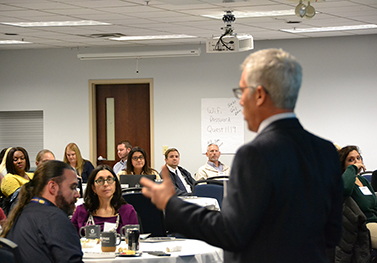 Andy Wapner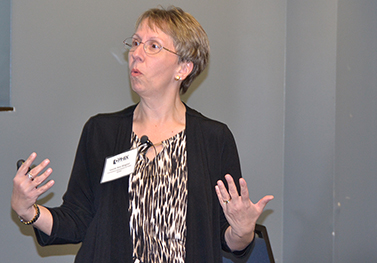 Laurie Ann Wagner giving keynote address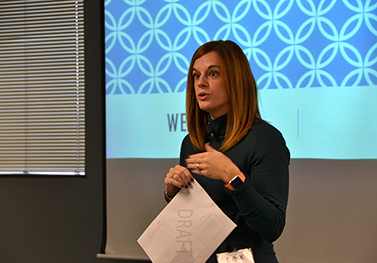 Meredith Cameron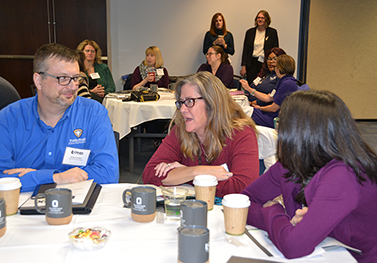 Attendees at first OPHIX conference