Undergrad, graduate students will expand gender and health equity research on the needs of underrepresented groups with breast, chest cancer as a part of program's second cohort.
When Kaleb Masterson and Sanjana Duvvuri started a small research project for Tasleem Padamsee's Daughter, Sister, Mother Project last spring semester, they knew they found an opportunity that matched their interests in gender and health equity.
What they didn't immediately know was that reviewing the scientific literature on breast and chest cancers in underrepresented groups would help open new opportunities, including a spot in the next cohort of Ohio State's Health Equity Scholars Program.
Masterson, a master's student in epidemiology and Duvurri, a global public health minor and bachelor's student in systems and behavioral neuroscience, were selected as one of six interprofessional teams of students and faculty whose projects are supported during the 2022-23 academic year.
The Health Equity Scholars Program will allow the duo to take their research project from a review of literature on high-risk breast and chest cancer in transgender, nonbinary people and cis men to the next phase.
"The fact that they are now funded and supported to actually go out there and talk to people about their experiences and will be able to write at least a paper about what the people they interview have to say about their own experiences will be totally novel and really important," said Padamsee, an assistant professor of health services management and policy, and the students' research mentor.
Duvurri and Masterson will conduct interviews with people at high-risk for breast and chest cancers, better understand their experiences and determine what changes might improve the outlook for this population. The research also will include interviews with health care providers.
"I'm really excited to be able to start collecting data from actual participants and having a tangible start to expanding our research," Masterson said.
Committed to health equity
Masterson came to Ohio State to become a nurse. But the COVID pandemic changed his plans. His interest in health equities which started when he was an undergrad at DePaul University, and the bright light COVID shined on those disparities, motivated Masterson to shift his career goals.
After changing his master's focus to epidemiology, Masterson connected with Padamsee, who invited him to be a part of her Daughter, Sister, Mother Project, where he has led the systemic literature review related to health equity in breast and chest cancer research for the past year.
During the summer, he was able to invest more energy into the project after earning a full-time research position with Center for Cancer Health Equity Summer Research Program.
The Chicagoland native has one more year in his master's degree, and plans to apply to the College of Public Health's Health Services Management and Policy doctoral program.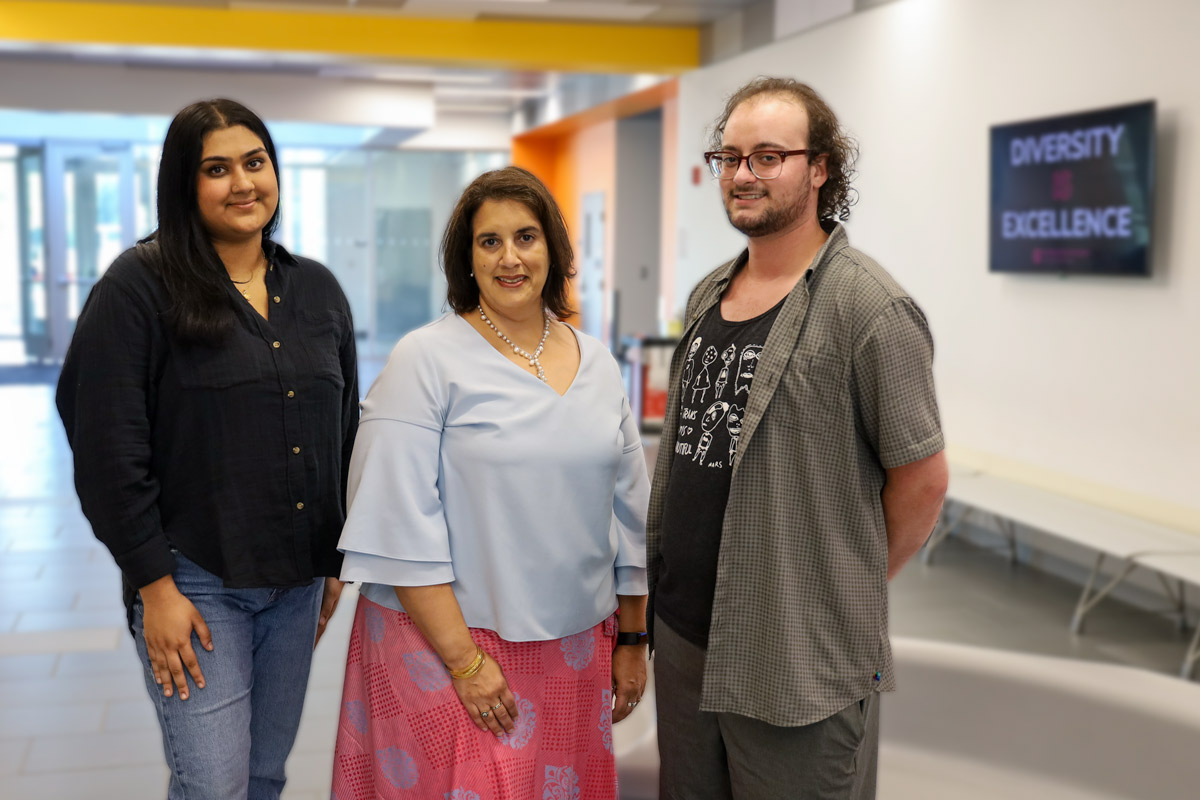 Duvurri, Padamsee and Masterson will expand their research on breast and chest cancers in underrepresented groups during the 2022-23 academic year as a part of the Health Equity Scholars Program.
Global public health, undergraduate research cement interests
For Duvurri, attending Ohio State meant pursuing additional academic interests on top of her neuroscience major. Like Masterson, the pandemic helped open her eyes to public health, including through interviews and press conferences with Dr. Anthony Fauci and Public Health alumna Dr. Amy Acton, MPH '96, she said.
"I registered for global public health as my one of my general education requirements and I really fell in love with this subject. And I knew I wanted to pursue that as my minor."
Ohio State has been instrumental in developing Duvurri's interests, especially in research. As a second-year student, she assisted in a public health sociology research project on racial disparities in non-governmental organizations in Ohio. She then reached out to Padamsee and joined her team during her third year. She also received a full-time research position through Ohio State's Undergraduate Research Apprenticeship Program.
Improving equity and inclusion in health care
The Health Equity Scholars program started in 2021 as a way for students and faculty across Ohio State disciplines and education levels to engage in impactful projects that provide evidence to improve health equity, and builds future diversity leaders who have the knowledge and skills to improve outcomes for diverse populations.
The opportunity the program will provide is something Masterson and Duvurri couldn't pass up the chance to be a part of.
"The whole point with the HESP program that's great is it's a collaborative and interdisciplinary project," Duvurri said. "We have this really interesting field of study that we want to do more deep work in. So, it worked out perfectly and we were able to come up with our idea for our proposal that Dr. Padamsee helped us with. We were so glad that we got accepted."
The Health Equity Scholars also will engage in monthly educational sessions on how to improve health through a lens of equity and inclusion. The program culminates in Masterson and Duvurri presenting their work at Ohio State's National Conference on Diversity, Race and Learning during the spring semester.
"I'm excited to learn more about health equity, and how I can go forward to the workforce to help reduce these problems as much as I can," Duvurri said.