Misti Crane, Kynthia Droesch receive Ohio State's highest staff award
Misti Crane, director of strategic communications and marketing, and Kynthia Droesch, director of the Office of Academic Programs and Student Services, were each awarded a 2022 Distinguished Staff Award, the university's highest staff honor.  
Since 1984, the Distinguished Staff Awards annually recognize 12 staff members for their exceptional achievements, service, leadership and dedication to Ohio State. Nominations are reviewed by a committee and assessed on criteria consistent with the university's values, as well as the individual's unique contributions to:
Enhancing the quality of work life for faculty, staff, students or patients.
Providing outstanding and ongoing service to university stakeholders.
Developing creative solutions to increase department or university operations.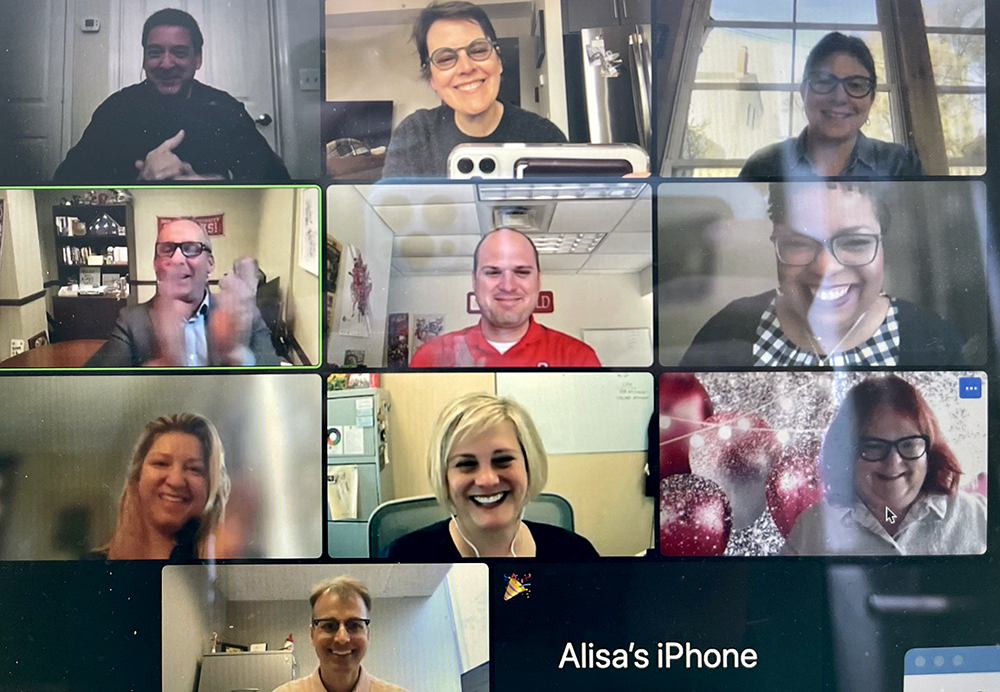 Crane and Droesch were surprised with the award on April 25 during a "strategic enrollment" meeting with College of Public Health leadership. They will each receive a $1,500 cash award and plaque, and will be honored along with other Distinguished Staff Award recipients on May 13.
---
Crane was awarded for her work bolstering the local and national reputation of the College of Public Health, promoting a culture of inclusive excellence, and helping guide college and university-wide communications surrounding the COVID-19 pandemic. Her membership on the Ohio State COVID-19 Comprehensive Monitoring Team has included partnering with University Marketing and Communications, the President and Provost's offices and other central units in navigating changes that have required careful messaging to students, faculty and staff throughout the pandemic.
"Not only has Misti had a transformative impact on the reach, reputation, and culture of the college, she has consistently and skillfully collaborated at high levels in the university," wrote Dean Amy Fairchild in her nomination letter. "Misti always invites me to reflect and grapple with evidence, potential outcomes, and values like transparency and excellence. She is a trusted counselor on sensitive issues of critical importance."
"Misti is uniquely qualified for the role she plays … She has been a journalist, worked in communications, and has a Master of Public Health that she acquired through our MPH Program for Experienced Professionals," added Professor of Epidemiology Bill Miller. "Misti has also been instrumental in expanding the message of the College of Public Health across Ohio and nationally … in a time when health misinformation is widespread, we have been able to provide truthful public health information to the public."
Droesch was awarded for her unwavering dedication to student success, her leadership in university-wide advising and education initiatives including the new general education model, and her impact on ensuring that all students — including prospective students, non-public health students, and recent graduates — experience supportive, streamlined processes for meeting their academic goals.
"As director of OAPSS, Kynthia has remained a primary contributor to the college's successful efforts to recruit, matriculate, and graduate racially, ethnically, and otherwise diverse students," wrote Vice Dean for Academic Affairs and Academic Administration Michael Bisesi, applauding Droesch's efforts to form a Student Advisory Committee and Public Health Student Ambassador Program.
Associate Professor of Health Services Management and Policy Sharon Schweikhart commended Droesch for her investment in her staff, including creating a cohesive team atmosphere and incentives to grow professionally.
"At a large university where staff often move around for new job opportunities, Kynthia creates a culture where staff want to stay because they feel empowered and appreciated," she said.