With a Bachelor of Science in Public Health (BSPH), graduates will be qualified for early career, entry-level positions in public health agencies and other public or private organizations. However, an additional outcome is to prepare students for advanced study via graduate and professional degree programs. The BSPH program gives students a broad introduction to the field of public health. However, graduate school offers a deeper education with a more intense focus on a specific topic area. For specific career opportunities, please click on one of the below specializations.
Public Health Sociology Specialization
Environmental Public Health Specialization
Foundational Competencies
All graduates of the BSPH degree program will be prepared to:
summarize the historic milestones in public health;
compare and contrast examples of major domestic and international public health issues;
discuss approaches and strategies  to identify, respond to and  intervene  with attempt to resolve common public health issues;
identify political, cultural, behavioral and socioeconomic factors related to global public health issues; and,
apply the fundamental principles of the five core disciplines of public health (biostatistics; environmental health; epidemiology; health administration; health behavior/promotion) to domestic and international population issues.
the ability to communicate public health information, in both oral and written forms, through a variety of media and to diverse audiences
the ability to locate, use, evaluate and synthesize public health information
Questions about BSPH Major, Global Public Health Minor or Epidemiology Minor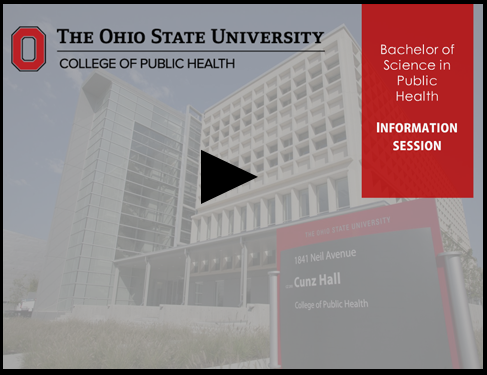 If you are interested in finding out more about the Public Health major or the minors, we encourage you to watch the video to the left. If you wish to declare the pre-major or have additional questions about the BSPH major or the minors offered by the College of Public Health, please complete the quiz at the end of the video and you will be sent instructions on how to schedule an appointment with an academic advisor in the College. Appointments are typically 30 minutes,but can be longer if requested. Phone appointments are also available. The undergraduate advisor offices are located in Cunz Hall Room 100. Appointments are not made by email.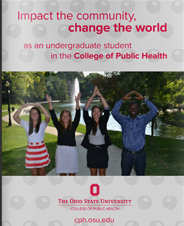 Learn More
For additional information about what it's like to be a undergraduate student at the Ohio State College of Public Health, view our recruitment brochure.