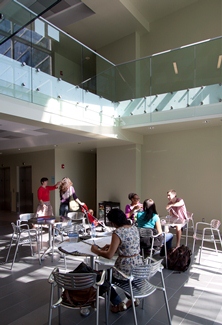 The College of Public Health in located in Cunz Hall, which was completely renovated in fall 2011.
The building, which first opened in 1969 as the Dieter Cunz Hall of Languages, now offers state of the art spaces:
11 research wet labs
Four classrooms with Smart Podium and Media Site lecture capturing
87 faculty offices
One student computer lab with fully integrated teaching technology
One student wet lab with full audio visual aids
Five conference rooms, including two with video conferencing
100% wireless access
More than 5,500 square feet of student spaces
60,000 total square feet
This renovation has resulted in a place that is full of light, encourages interaction in common spaces, and lives our public health mission of environmental sustainability. It is a joy to come to work every day in a place like this.

-- Former Dean Stanley Lemeshow, Cunz Hall Grand Opening, 2011
Cunz Hall deemed LEED Certified Silver
Cunz Hall recently became the first renovated building on campus with wet lab space to become LEED (Leadership in Energy & Environmental Design) certified. The building's LEED silver certification was made official in 2013 by the U.S. Green Building Council.
Originally built in 1969 as the Dieter Cunz Hall of Languages, Cunz underwent renovations and reopened as a state-of-the-art building in fall of 2011. This newly revamped building allowed the College of Public Health to be under one roof for the first time.
Recognition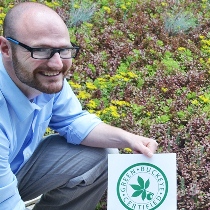 Scot Erbe with Green Buckeyes Award
In 2012, the building received Green Buckeye status, Ohio State's certification that the college and building follow environmentally sound practices. The college is the first at Ohio State to earn the Green Buckeye Certification. The certification process requires Ohio State units to comply with numerous criteria in the following five areas:
Communication and education
Energy efficiency and conservation
Recycling and waste reduction
Water conservation
Purchasing.
Cunz Hall has also earned design industry recognition:
Winner, 2011 Honor Award, American Institute of Architects Columbus Chapter
Finalist, 2011 James B. Recchie Design Award, Columbus Landmarks Foundation
Winner, 2011 Craftsmanship Award, Builders Exchange of Central Ohio, for the cast-in-place north/south external concrete stairs.
Environmental Sustainability
The Ohio State University recognizes that the built environment has a profound impact on our economy, productivity and the natural environment. The College of Public Health has the potential to demonstrate to the occupants and the greater community that building technology, science and operations can improve performance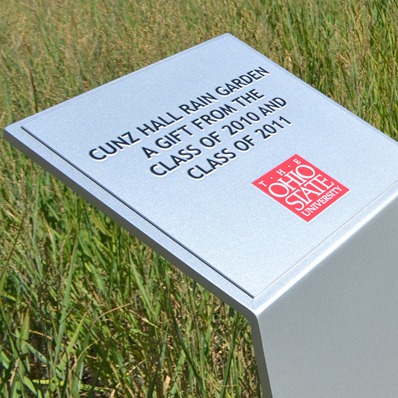 and reduce energy demands. A few highlights of Cunz Hall are:
Cunz Hall is the first renovated building with wet labs on campus to be LEED-certified, and achieved LEED Silver Certification in October 2013.
Interior spaces glow with natural light from new windows, atriums, and glass walls.
The building still has 90 percent of its original walls, floors and ceilings.
Advanced heating and cooling equipment minimize the college's carbon footprint and reduces energy operating costs by 27 percent.
Low-flow plumbing fixtures and native plants lower potable water demands by 52%.
The green roof and Cunz Hall Rain Garden minimize storm water runoff to the Olentangy River.
North and south external stairwells are easily accessible and encourage physical activity.
It is the College of Public Health's desire to lead by example and be identified with a building that physically demonstrates the mission and goals of the teaching and research performed at the College. This will be achieved through an improved physical facility and healthy interior environments.