February 19, 2013 by Bri Loesch
In anticipation of the upcoming Academy Awards ceremony, the College of Public Health is remembering some of the classic public health movies. Are we missing your favorite public health movie? Share it with us on Facebook and Twitter! #publichealthmovie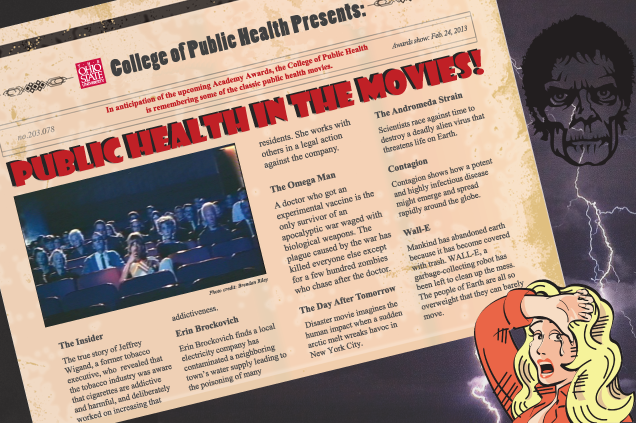 The Insider
The true story of Jeffrey Wigand, a former tobacco executive, who revealed that the tobacco industry was aware that cigarettes are addictive and harmful, and deliberately worked on increasing that addictiveness.
Erin Brockovich
Erin Brockovich finds a local electricity company has contaminated a neighboring town's water supply leading to the poisoning of many residents. She works with others in a legal action against the company.
The Omega Man
A doctor who got an experimental vaccine is the only survivor of an apocalyptic war waged with biological weapons. The plague caused by the war has killed everyone else except for a few hundred zombies who chase after the doctor.
The Day After Tomorrow
Disaster movie imagines the human impact when a sudden arctic melt wreaks havoc in New York City.
The Andromeda Strain
Scientists race against time to destroy a deadly alien virus that threatens life on Earth.
Contagion
Contagion shows how a potent and highly infectious disease might emerge and spread rapidly around the globe.
Wall-E
Mankind has abandoned earth because it has become covered with trash. WALL-E, a garbage-collecting robot has been left to clean up the mess. The people of Earth are all so overweight that they can barely move.
Super Size Me
While examining the influence of the fast food industry, Morgan Spurlock personally explores the consequences on his health of a diet of solely McDonald's food for one month.
Outbreak
Extreme measures are necessary to contain an epidemic of a deadly airborne virus. But how extreme, exactly?
Vegucated
Vegucated is a guerrilla-style documentary that follows three meat- and cheese-loving New Yorkers who agree to adopt a vegan diet for six weeks and learn what it's all about.
Hungry for Change
Exposes shocking secrets the diet, weightloss and food industry don't want you to know about; deceptive strategies designed to keep you coming back for more.
Forks Over Knives
Examines the profound claim that most, if not all, of the degenerative diseases that afflict us can be controlled, or even reversed, by rejecting our present menu of animal-based and processed foods.
Escape Fire: The Fight to Rescue American Healthcare
An investigative documentary that uncovers the U.S. healthcare system's true design.
And the Band Played On
The story of the discovery of the AIDS epidemic and the political infighting of the scientific community hampering the early fight with it.
Source of summaries: IMDB