The Ohio State University continues to align campus-wide strategies behind reaching the aspirational outcome of the university strategic plan, Time and Change, to be a leading national flagship public research university.
The College of Public Health, under the new leadership of Dean Amy Fairchild, is committed to developing its own strategic plan that aligns with the college's mission and aspirations. As we embark on this in-depth analysis of our strengths and key areas for growth, and explore the best pathway toward future excellence, a steering committee has been named and will begin meeting in early March to guide the plan's development and build a roadmap for the college's future.
The committee is projected to meet intermittently through June of 2020.
The planning process will be guided by Gail Marsh, Senior Vice President and Chief Strategy Officer, and the Strategy Management Office.
Dean Fairchild and other leaders of this effort invite you to join in the conversation and the building of the CPH strategic plan throughout the process. Expect to have multiple opportunities to help shape its direction, including through surveys on core topics.
The first such survey was distributed in February, shortly after the dean's first State of the College address. Among the questions in that first survey: "What do you think are the top three public health issues domestically?"
Access to and cost of health care topped the list, followed by drug abuse, opioids, racism, mental health, climate change, social determinants of health, environment, health care disparities and violence.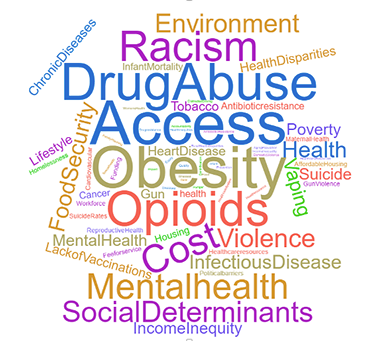 Almost 160 faculty, staff, students, alumni and others responded to the initial survey, a topic for discussion at the first steering committee meeting on March 3.