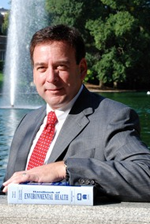 Environmental health science is the public health discipline that focuses on chemical, microbiological and physical agents that contaminate food, air, water, and soil and, in turn, may adversely affect humans and animals when exposed. 
The focus includes sources of exposure within indoor and outdoor as well as workplace and non-workplace settings. In addition, the discipline addresses global challenges associated with energy demands and production, population growth and urbanization, and climate change. Environmental resources essential to human health including water, food, and air are being seriously threatened.
Now more than ever, environmental health researchers and practitioners are needed to address these issues and threats.
Our faculty and students are in a unique position to address these profound global challenges. Our research-intensive faculty members engage in diverse, but complementary, creative research that encompasses the laboratory, translational, and population sciences. These research activities recognize the global dimension of the issues facing humans and animals which occur in multiple locations around the world. Indeed, the work is relevant to the "one health" concept.
We are situated within a dynamic and growing College of Public Health that is integral to one of the most comprehensive campuses in the nation. The opportunity for interdisciplinary research and education are unparalleled here. Ohio State is home to several units offering education and research in various specializations of the environmental sciences. When combined with opportunities involving the other health science colleges, there are numerous opportunities for collaborative interdisciplinary involving the environmental health sciences at the core. In addition, these academic interests have strong links to the community through the College's Center for Public Health Practice and the Division's external Environmental Advisory Committee that includes local and state agencies, business, and community partners.
Whether your interest is advanced research, education, or applied practice, I invite you to join with our faculty, staff, students, university, and community partners to achieve our shared goal of protecting human health.
Michael Bisesi, PhD, REHS, CIH
Interim Chair, Division of Environmental Health Sciences